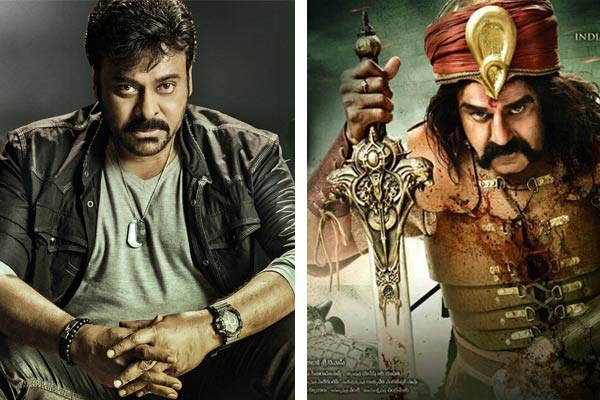 Tollywood always holds Sankranti in high regard and that reflects in the way it places bets on the year's biggest movies releasing during this season. At T360, we discussed in the previous season elaborately on how the biggest heroes fared at Sankranti race of film releases. Read the article here.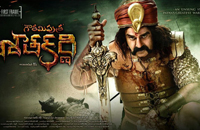 Sankranti in 2017 is going to be another exciting season for Tollywood and attention is increasing day-by-day for all the fans of Telugu films. As of now, three films are confirmed for release for Sankranti and all three of them are different in genre and variety.
Slated for 12th January'17 is Nandamuri Balakrishna's 100th film "Gautamiputra Saatakarni", the historical on the life and times of the famous Telugu warrior king directed by National Award-winning director Krish starring Shriya and the eternal beauty Hema Malini. Read our story written nine months ago:
Slated for 13th January'17 is Megastar Chiranjeevi's comeback film and the 150th film , "Khaidi No.150", an outright commercial potboiler film starring Kajal Agarwal set to foot-tapping music by DSP.
The darkhorse for Sankranti this year (just like last year's race) is Sharwanand's "Shatamanam Bhavati" produced by Dil Raju as a musical family entertainer with a festive touch.With a large ensemble of character artists from Prakash Raj and Jayasudha, the film has crazy heroine Anupama Parameswaran romancing Sharwanand.
What makes this year's Sankranti's offering different are what we are going to analyze here.
For starters, this is going to be a slugfest between two of the longest-innings matinee idols of this generation – Megastar Chiranjeevi and NBK – and their loyal fans to witness milestone films in a long journey that dates back to the late 70s for Chiranjeevi and the early 80s for NBK. The expectation is clearly that both the stars are going to get more masses throng the theatres during Sankranti to see their career milestone films.
For those who are familiar with history, it may be of interest to note that this is not the first clash between Megastar and Balayya at Sankranti box-office. Let's look at their clashes in the past and how they fared at the box-office.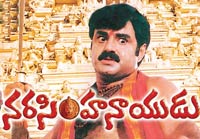 Year 2001 saw two big-budget releases, inter-alia. Megastar's "Mrugaraju" with Balayya's "Narasimha Naidu". While Chiranjeevi's film raised expectations on the uniqueness of a story with lion-taming as the back-drop, Balayya's film was a factionist-background story similar to the previous blockbuster hit "Samarasimha Reddy". But when both the films released, Balayya's film was real winner as it had all the elements of entertainment that festivities demanded.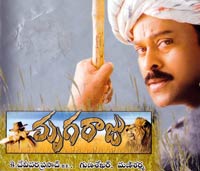 Year 2004 again saw a clash of Chiranjeevi Vs. Balayya. This time the bets were on the highly-publicised SFX film "Anji" starring megastar and Namrata Shirodkar while the Balayya movie was "Lakshmi Narasimha" directed by Jayanth C Paranjee. Once again, Balayya's film swayed the masses and classes alike even though Chiranjeevi's film won the accolades for the masterly special effects – which are hailed even today as eyepopping and grandiose.
Interestingly, we are going to see the two stars clash at Sankranti for the third time and everybody is curious who will emerge winner at the festival. One surprise factor this year though is the historical setting in Balayya's Sankranti offering which doesn't happen normally.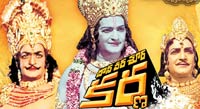 The last time an offering of this significance came up at the box office for Sankranti was in the year 1977. The clash was set up between two eternally sparring superstars of Tollywood in the 80s – the late N.T.R and Superstar Krishna. On January 14, 1977 two films with almost similar mythological content clashed at the box-office – NTR's "Daana Veera Shoora Karna" and Krishna's "Kurukshetram". Though "Kurukshetram" had superb starcast with Krishna, Shobhan Babu, Krishnamraju, Jamuna and Satyanarayana and deft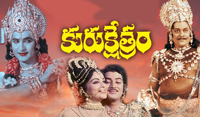 direction by Kamalakara Kameswara Rao, the film couldn't captivate the crowds as much as triple role NTR played with dexterity in "DVSK". The film "DVSK" eventually created hysteria at the box-office and overshadowed every film. Such is the history of two historical/mythological clashes at Sankranti.
It remains to be seen now if Balayya's historical can retain the upper edge over what promises to be an entertaining film from Chiranjeevi or whether Sharwanand will steal another silent winner like last year's "Express Raja". But sure enough, this is going to be the most-watched epic contest that's worthy of Sankranti competition spirit and may the best film win again.