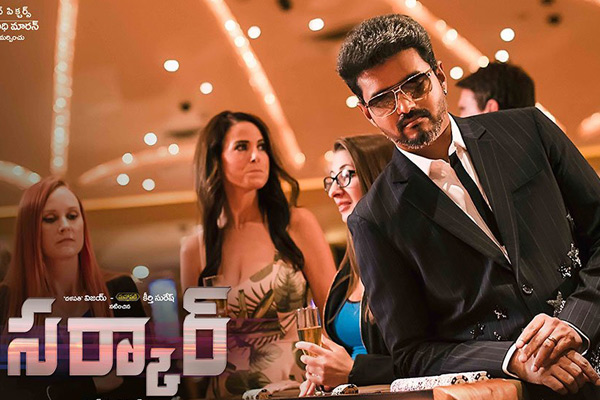 Sarkar Tamil Movie Review Sarkar (2018) Review Rating
Telugu360 Rating 2.5/5
The blockbuster combination of AR Murugadoss and Vijay, which gave super hits like Thuppaki and Kaththi, reunited for a political thriller named Sarkar. The teasers and trailers have generated a solid buzz on the film and AR Rahman composed the tunes. Will AR Murugadoss and Vijay continue their success streak ? Let's find out.
Story :
NRI, USA based GL Company CEO, Billionaire Sundar Ramasamy visits India to cast his vote on Election Day. After being rejected his right to vote, Sundar gets determined to fight a legal battle with the election commission. His fight with electioneering process, very soon turns into a political rivalry with the ruling party. As re-elections approach, Sundar decides to directly take on the chief minister in the latter's own constituency. Rest of the film revolves around how Sundar tries to outsmart formidable ruling party, how the ruling party tries to counter his activities…
Performances:
Vijay as Sundar carries this film solely on his shoulders. Keerthi Suresh as politician's daughter got a lengthy role but insignificant. Varalaxmi Sarathkumar is the surprise pack, as CM's daughter she played the villain role. Yogi Babu Comedy is decent and is limited three scenes though. Radha ravi is a good fit for the political role.
Analysis :
SARKAR takes off in an interesting manner but turns superficial as it progresses. Initial scenes such as Introduction Song, Sundar's entry to India, Rejection of his vote were fast paced. However, from there the story's primary point isn't much convincing. Why would election commission or courts would cancel already completed elections in entire state if one person couldn't cast his vote? No matter how many legal cases are filed, such decision is far from reality. However, first half is an average as it is stuffed with commercial elements to appeal Vijay Fans. Second half is not up to the mark. Climax, pre-climax scenes have many unconvincing elements. On Election Day, hero gets some credible evidence against the ruling party chief. But Sundar waits until 2PM before go live on Facebook to disclose the video to the voters. By that time 53% voting is done. On Election Day contesting candidates are not supposed to do canvassing to influence the voters is another major point Murugadoss has missed. The mind game between Varalaxmi , Sundar hasn't been told in engaging manner. For Vijay fans this film may work because of fan moments at regular intervals.
Couple of fights and background score stand out. Finally, this film is far below than the Vijay – Murugadoss's previous combo ' Katthi ' , and doesn't even match Vijay's previous film ' Mersal '
Verdict:
SARKAR is very strictly for Vijay Fans. This film has been designed, executed as an out and out political drama to fulfil hero Vijay's real life political ambitions. Director Murugadoss has come up with an unconvincing plot, infused some commercial elements at regular intervals.
Telugu360 Rating 2.5/5
Release Date : 05th Nov, 2018
Director : A.R. Murugadoss
Music Director : A. R. Rahman
Choreography : Girish Gangadharan
Production company‎: ‎Sun Pictures
Starring : Vijay , Keerthy Suresh, Varalaxmi Sarathkumar