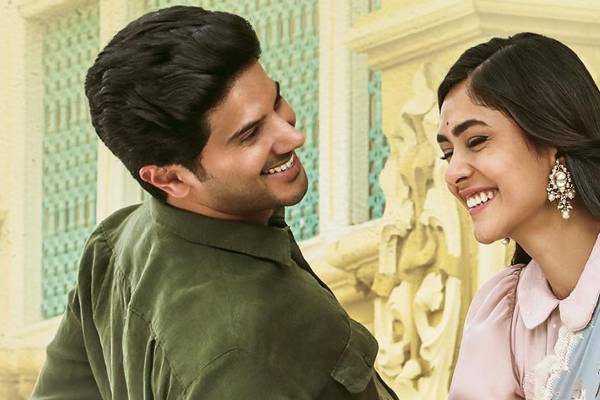 Sita Ramam Movie Review
Telugu360 Rating 3.25/5
Story:
Set In 1965, Lieutenant Ram (Dulquer ) work for Indian Army grabs national attention for his fearless act in Kashmir Valley. He receives hundreds of appreciation letters weekly, one of those letters comes from an anonymous lady who claims as his wife Ms. Sita Mahalakshmi (Mrunal Thakur). Ram reaches Hyderabad to meet her and love blossoms between the made for each other pair. Meanwhile, due to his army work Ram and Vishnu ( Sumanth ) are deployed to a secret mission in Pakistan. What happens in Pakistan, why Afreen ( Rashmika ) carries a letter to Hyderabad after twenty years ? are the questions answered on big screen
Analysis:
'Sita Ramam' story has many layers in it. Primarily it is a love story with patriotic backdrop similar to the classic film Roja. Movie takes off as a routine cross border terrorism film, gets thicker as a love story. A shaky start in establishing the theme stabilizes with time. The quality of authentic Telugu dialogues,good lyrics start impressing the audience as the middle of first half approaches. Production quality is on par with top heroes'films or even better. Vennela Kishore comedy track works to an extent. Interval comes with a simple twist. Songs blend well with the story flow are picturized well. Afreen ( Rashmika ) character writing underlines the script writer's skill.
In Second half emotions work well especially pre climax and climax scenes are well written. The scene right before Ram leaves to Pakistan assignment is well conceived by the director. Casting is a big plus in ' Sita Ramam '. Even a single scene character is played by a prominent actor. Vyjayanti Movies and Swapna Cinemas who produced national award winning classic ' Mahanati ' , spent lavishly on 'Sita Ramam'. The sets are lavish, the locations are authentic and production design is overall lavish.
Dulquer is T fit as Lieutenant Ram , his expressive eyes helped in poetic scenes. Mrunal Thakur as Sitamahalakshmi is superb. Her looks and performance will fetch many more Telugu films down the line. Rashmika as Afreen , Tarun Bhasker as Balaji , Sachin Khedekar as Major Tariq , Vennala Kishore as Durjaya Sharma, Murali Sharma , Prakash Raj, Bhumika , Gautam Vasudev Menon and others play the rest of the roles Vishal Chandrasekhar's music is soothing and so is his background score. Irfan Rashid's artwork and Sheetal's costumes are of Bollywood quality.
Positives:
A Solid story 
Visually poetic Songs and love scenes 
Dulqer and Mrunal Pair Chemistry
Emotional scenes work
High Quality Production Values
Negatives:
First 30 minutes is ordinary
Slow pace narration here and there
Verdict:
'Sita Ramam' is a well-made film with poetic visuals, songs, background score and mainly with a good story. Heroine Mrunal is beautiful, her chemistry with Dulquer works bigtime. First half an hour of the film is mediocre; the graph goes north as it progresses. Vyjayanti Movies and Swapna cinemas must be appreciated for making this film on large scale. Director Hanu finally delivers a success.
Telugu360 Rating 3.25/5
Summary
Reviewer
Review Date
Reviewed Item
Author Rating