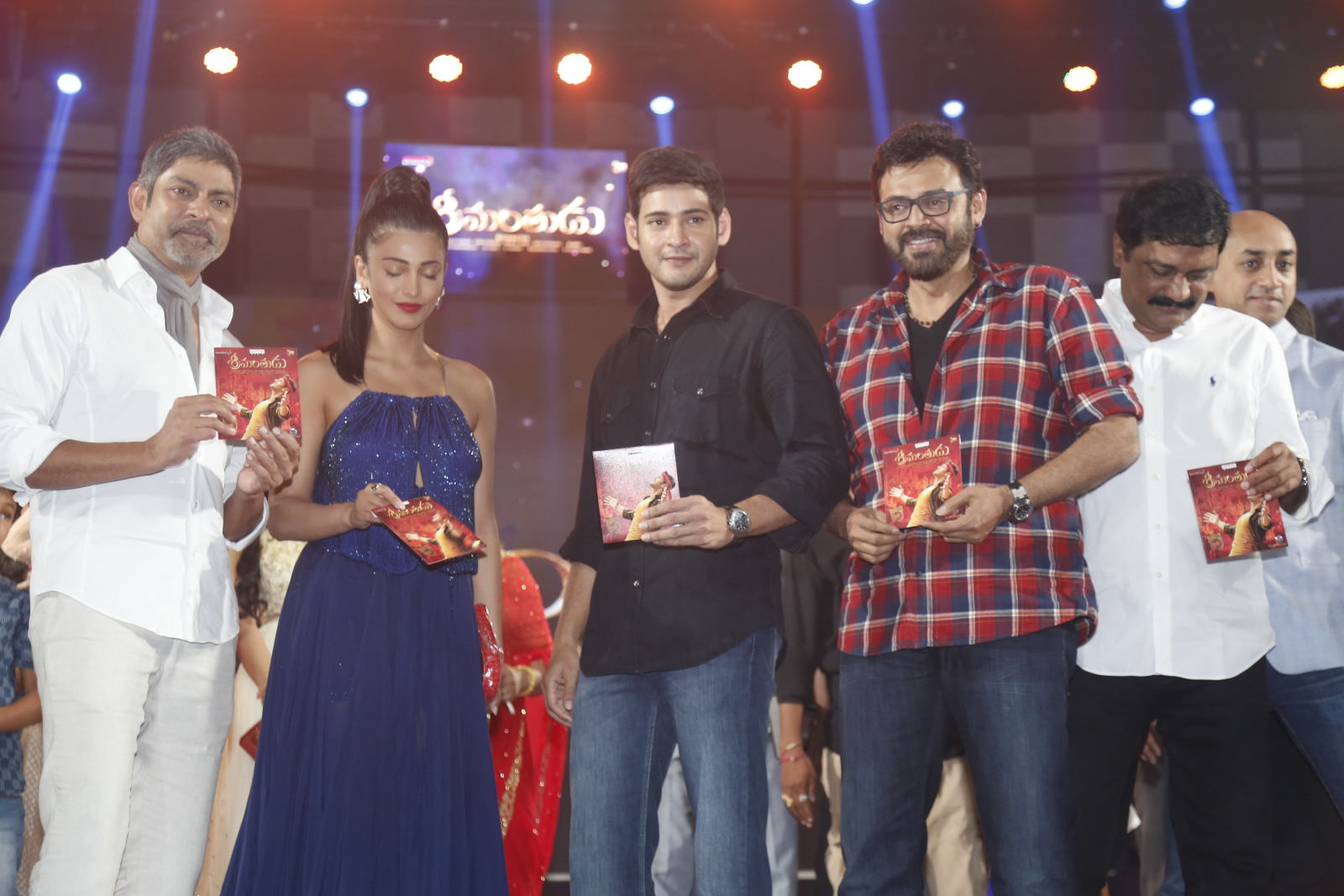 Mahesh Babu's much-awaited audio launch of "Srimanthudu" came exactly one week after blockbuster "Baahubali" smashed all records – and is released just in time before the Super Star's birthday in August. The movie is releasing on August 7 and the audio was, as usual, a gala affair though, predictable. The only welcome change was that the whole function bore a subdued look and a change of guard at anchors. Usually, Jhansi takes the stage for Mahesh Babu's audio launches but this time it was good to see the effervescent and fluent Suma as the lead anchor. Though the structure of the function was not creative, good to see the likes of Victory Venkatesh, Srikanth Addala and VV Vinayak turn up at the event. The felicitation of Superstar Krishna was another warm gesture which resonated well with the fans at Shilpakala Vedika Auditorium.
There were no long speeches despite the long duration of the function telecast live on Zee Telugu. Including the Super Star, the three Babus – Mahesh, Venkatesh and Jagapathi spoke briefly. Refreshing to see Jagapathi Babu play Mahesh's father in the film, it is finally dawning on him that he is not meant for those stare-and-stale looks as a villain, his real warmth in the second innings can be tapped through these meaningful roles as an affectionate father. As he mentioned in his speech, Jagapathi Babu says there are seven former heroes and heroines who played a role in the story of "Srimanthudu" – that includes the likes of Rajendra Prasad (absent at the launch), Sukanya and himself (Jagapathi Babu). Writer-turned-director Koratala Siva has the ability to take a normal story to evolved commercial sensibilities – and one hopes "Srimanthudu" will bring back joy to Mahesh Babu fans and carry the winning streak of "Mirchi" onwards. Mahesh Babu's speech was subdued and short; he was definitely shaken by the failure of his recent films and was keen to get back a raging hit with this film.
Devi Sri Prasad makes a late entry into his own audio launch and as usual tries to wake up a slumbering audience starved of energy. He has a tendency to get carried away sometimes with his loose comments on anything and everybody – from Shruti Hassan to the Superstar but one felt he could get away with most things yesterday. Those three songs set to peppy tunes from the album of "Srimanthudu" definitely rocked the evening, especially the one co-sung with Shruti Hassan, who is a natural singing talent. DSP always had a flair for showmanship and yesterday was another day of that.