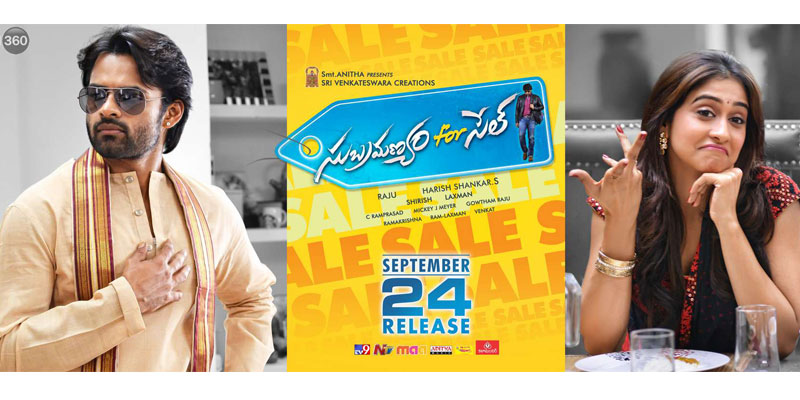 [intro]Subramanyam For Sale is not spectacularly different from any of Dil Raju produced films but Harish Shankar dishes out entertaining fare that brands Sai Dharmatej better.[/intro]
At one level, directors are turning in irregular formats to raise the bar for films with encouraging results at the box office. But at another level, movies made for the masses continue to cling to archaic plots built for safety. Subramanyam For Sale is a film in the second category – the formula plot – with a familiar story: Villains who live by the gun, and a heroine (Regina Cassandra) who elopes to America for love, gets dumped by her boyfriend and then finds her prince charming in the hero (Sai DharmaTej) who settles everybody in the family with few twists. Haven't we seen this movie before? Just when you thought, Tollywood is having a good time with creative plots, the audience gets drawn into a quicksand of cliched plots and deja'vu treatment by the makers – who have travelled down this road umpteen times – producer Dil Raju and Harish Shankar.
There are few things different about this 153 minute film: a fresh approach to comedy without cuss words and slurs. And yes, Brahmanandam is back to his favorite role of a hapless uncle who is sandwiched between a dum-witted joint family and a hero who is taking everybody for a ride. While he gets a few good laughs, there is a law of diminishing marginal utility which has set in for his style of comedy with in-built stereotypes. Even the great comedians of the past – Raja Babu and Relangi who was the toast of distributors in their heydays had to eat humble pie when their old antics misfired in movies. Brahmanandam has had atleast four phases of sustained improvisations in his career to come to this level – but now he seems to fritter away due to lazy characterisation and lack of imagination to think different. Harish Shankar has a penchant for entertainment and he used it well with the gang of Gabbar Singh and the hero Sai Dharmatej but with Brahmanandam, it doesn't add up fully. The pairing of Sai and Regina definitely sizzles the screen and but for Dil Raju's censorship, they would have carried on the screen in the medley of intimate scenes in the film.
Compared to his previous films of recent past, Harish has delivered a better product that is watchable though with uneasiness on the familiar treatment. The story is almost flaky till the interval because of the treatment in favor of comedy and entertainment: Sai comes to America to take care of his family of father, stepmother and stepsister in India. He puts himself for sale (justifying the title) to get dollars for any odd jobs – be it RJ, waiting at hotels, or even posing as a couple for competitions. Enter Regina, the wronged woman who gets rescued by Sai and falls in love with him. Love grows but with twists in the second half as both have to travel to India to see their respective sisters married. The usual twist with the villains who round up the families and the deftness of the hero which saves the matches of both familes –made in heaven. Harish Shankar invests in a good starcast that looks less predictable than in similar films even if the audience senses this is a concotion of so many films of this genre – Brindavanam, S/o Satyamurthy, Don Seenu, Mirapakaya etc. and finally, an ending straight out of Gautam Menon's Ye Maya Chesave.
Performances-wise, the cast delivers because of the energy unleashed by the director in presenting the same story with fresh approach. Rao Ramesh delivers a fine performance with a funny mannerism that raises the specter of a comic villain for the first time. Almost all the side villains – from Kota to drunkard Ramesh, Prabhas Seenu and Ganesh pack a punch in their short roles. Regina looks good in all attires and carries her role with ease – her effort to pack in a range of emotions shows despite a slow start in the first half. Dance-wise, she has improved compared to her earlier films. Sai Dharmatej, sure has a terrific screen presence with his jovial looks, dishovelled hair and cool dude demeanor. He dances well, and pulls off comedy well but his articulation is still awful because he has a tendency to say dialogues which connect with the masses but sometimes it pays to be subtle and pipe down a bit. Some of his younger cousins can definitely help him in this regard. But he seems to march ahead with scripts that regale the audience. His body-language is suited to be light-hearted and casual – that's what got him success so far – but he has the potential to do serious roles if he trains better.
Remember the first fifty films of Megastar Chiranjeevi? Sai resembles those kind of roles a lot with his gazing eyes and loose hairdo. Music by Mickey J Meyer is energetic and serves a good fare. Surprisingly, the songs have a good feel of mass touch and a rare blend of melody and interesting beats which are not associated with his compositions. His best music this year still remains Kerintha but in this film, he has re-invented himself for bagging offers in mass hero films which eluded him so far. This film proves that once you get trained in the basics of music, you can augment your repertoire of composing skills to embrace any genres. This could be a turning point for Mickey and the remixed song "Guvva Gorinka tho" from Khaidi No.786 stood out for the originality retained in the song by Raj-Koti. The song composed on Sai-Regina also has a versimilitude with the choreography used on Chiru-Bhanupriya and raises the tempo for the song.
But I wonder if these kind of movies will have the same dream run of the past five years. In the film, Harish zips through with a racy screenplay and high-voltage entertainment but misses some shots without care. For example, in the first half, in the kitchen, the hero uses Paneer in a restaurant in the US which is of Heritage brand. (Wonder why one uses a local brand there?). In another scene, Brahmi is seen drinking a bottle of whiskey but in the same scene, the bottle disappears after he is talking to the hero while placing it next to him. In one of the last scenes, Sai's sister is married but she is shown in the parents' house without her husband in reacting to good news about Sai's return to India again. Minor slips, but do not take away the credit of the director in the punchy dialogues and minting emotions at crucial places. Except that it is a "repeat" theme, there's nothing to complain of.
Rating: 2.75/5