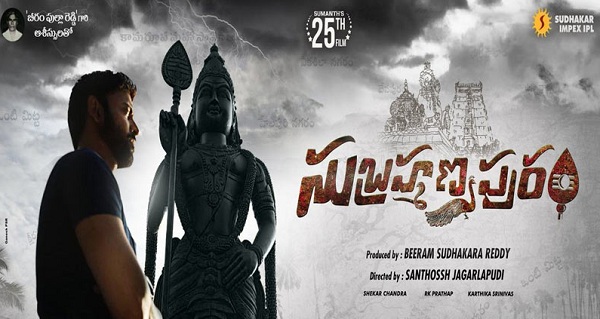 Subramanyapuram Review
Subramanyapuram Review
Telugu360 Rating 1/5
Story:
Karthik ( Sumanth ) is an atheist , but by profession does research on ancient temples. Karthik visits an ancient subramanya swami temple located in a village named Subramanyapuram. By the time Karthik enters, the villagers are traumatized with a series of suicides. Police, village head and villagers believe it is God's wrath on them for their wrong deeds, and take no action. Karthik suspects some foul play and starts investigating the suicides.
Rest of the film is about how Karthik finds the root cause, how he fights it out!
Analysis:
Movie takes off with Rana Daggubati's voice over on how the village subramanyapuram is formed centuries ago. After the introduction, present day story has been unleashed. Villagers one after another commit suicide for no reasons, and panic accumulate all over the village. Superstitious villagers believe it is God's wrath until Karthik , a researcher, come to their village. The major problem with this film is the main point is of hardly worth 30 minutes – in which the director have to establish suicides being committed. Then, he should have attempted to narrate solution for the crisis. But the suicides, with no change in the pattern, continue till the climax. They're like replay scenes with only change being the victim. To keep the attention of the audience, the director should have tried different ways the culprits frame the suicides.  Karthik decides to stay in the village, fight out the evil forces. Afterwards movie is somewhat engaging for the targeted rural audience.  Last act contains how Karthik figures out the culprits, contain them – which ends in routine manner.
This film needs sufficient budget to get the desired outcome. But, very poor production values make audience impatient in watching this substandard feature film.  Poor casting ( Except Sumanth) , Poor production values, substandard technical values make this film not worthy watch.
Performances:
Sumanth is fine as Karthik , however no strong emotional scenes to showcase his acting. Eesha Rebba as village girl got a half-baked role with no significance. This film doesn't help her career any way. Senior actor Suresh played Narendra Varma ( Eesha's father role ). Rest of the casting are unknown faces.
Verdict:
Subramanyapuram design and execution is aimed at the rural audience, second half may partially appeal to the targeted audience. Rest of the audience cannot sit through this low budgeted film based on superstitions.  Feel free to skip it!
Telugu360 Rating 1/5
Release Date : Dec 7th 2018
Director : Santhossh Jagarlapudi
Prducers : Dheeraj Boggaram and Beeram Sudhakar Reddy
Starring : Sumanth, Eesha Rebba