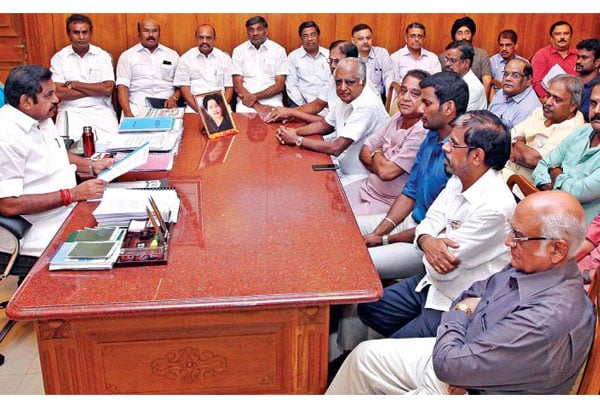 Superstar Rajinikanth took to twitter to extend support to Tamil Nadu Film Industry and said, "Keeping in mind the livelihood of Lakhs of people in the tamil film industry, I sincerely request the TN GOVT to seriously consider our plea"
Protesting against the additional corporation tax in the tickets apart from Goods and Services Tax, and requesting permission to hike the ticket rates, around 1000 cinemas in the state are on indefinite strike since Monday. They have halted advance booking from Sunday while a few of them shut on the same day.
GST puts cinema tickets under two slabs, 28% and 18% for tickets ranging above 100 and below respectively. Apart from this increase, the state government is imposing additional 30% municipal tax on theatres. In other South Indian states Rs 100 ticket would cost Rs 118 inclusive GST, but it would cost Rs 148 in Tamil Nadu all-encompassing GST and corporation tax. It is the only state in the country to announce a separate tax in addition to GST.
Also theatres put forth another request to rationalise the ticket prices, which were fixed way back in 2007. Theatre owners said that there has been no hike in ticket prices for a decade now effecting theatres in the suburbs and villages.
The government order proclaiming the state will levy 30% entertainment tax which will be amassed by the local bodies, in addition to GST was passed on Friday. To lower the anguish of the producers of the recently-release films, Tamil Films Producers Council president Vishal, while opposing the additional 30% entertainment tax asked the theatre owners to call off the strike or at least to defer it by a week. The negotiations between the theatre owners and producers to resolve the bottleneck failed which led to indefinite strike since Monday. The meeting of Tamil film producers council, South Indian Artistes Association, along with the theatre owners and distributors with Chief Minister K Palaniswami on Monday failed to yield any positive result.
Tamil Nadu Cinema Theatre Owners Federation president Abirami Ramanathan earlier said that resolution to go foray had come out of the blue as the theatre owners were kept in the dark about the double taxation. He said that when Kerala Government has withdrawn the tax, Tamil Nadu government has to do the same. He iterated that they are not against GST and said that the so many taxes would encourage people to illegally download films.
The Tamil Film Fraternity came in support of the theatre owners. Actor Kamal Hassan, hinting at an agitation strongly voice "Let's request first as gentlemen should. Then we shall see". Earlier, lamenting the state government he had said, "Filmmaking in the state has been made difficult deliberately. There are further tortures and systemic corruption that the film industry has to endure under this regime."
Actor Arjun said that the local Body tax issued on top of GST will make industry suffer. He believes that no one will come forward to produce films in TN with such extortionate rates. He requested to save the Tamil cinema like Director and Producer Shankar Shanmugam who also said that 48-58% is too much of tax.
Actor Siddarth held that "The Tamil Film Industry must stand united. We are being played by this center-state confusion. #GST is one nation one tax! No exceptions!"
Harris Jayaraj held that he never thought the GSt would crush the 10lakhs family of Tamil Cinema along with others
Tamil Lyricist and Dialogue Writer Madhan Karky hoped that the tax is revised and offered to reduce 15% off my remuneration for songs and dialogues, to help the industry.
Lyca Productions, which is currently producing Rajinikanth's "2.0" said it would not take up future projects in Tamil Nadu if there was no clarity on the tax structure.