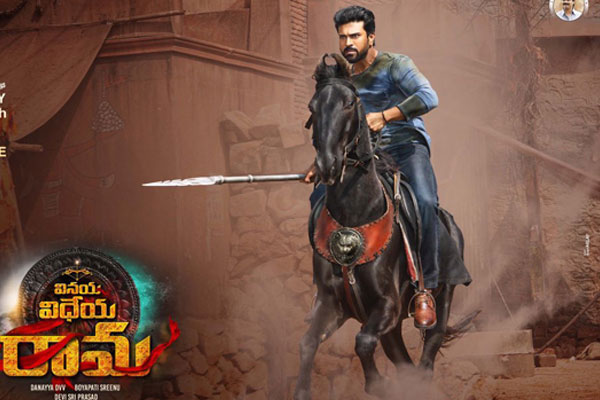 vinaya vidheya Rama review
vinaya vidheya Rama review
T360 Rating : 2.25 
Ram Charan teamed up Boyapati Srinu for the first time in his career. Titled as Vinaya Vidheya Rama, the film is billed as an action drama laced with plenty of family emotions. The trailers and teasers are loaded with mass elements and Ram Charan's intense avatar has been a talking point among everyone. Let's see what the movie has in store.
Story:
Rama Konidela ( Ram Charan ) and his four brothers share a close bond. Bhuvan Kumar (Prashant), elder brother, is an upright IAS officer works in Election Commission. He is tasked with managing a highly contested Visakhapatnam bi-election.
In Vizag , Rama faces off with Pandem Parasuram , a local don, who threatens his brother's life. In a high voltage action episode, Flashback opens and story shifts to Bihar where antagonist Raja Bhai ( Vivek Oberoi ) world is introduced
Rest of the story is about how Rama Confronts with mighty Raja Bhai in flashback & in present…
Performances:
Ram Charan, who has rediscovered himself as an actor in Rangasthalam doesn't get a chance to showcase his repertoire of skills. However, Ram Charan brings life to the mediocre music of Devi Sri Prasad in songs. He dances gracefully. Kiara Advani is bright star of the movie. She is going to go a long way in Tollywood. Prashant and Sneha get meaty roles. Vivek Oberai and Mukesh Rushi as antagonists do their bit. Senior actor Chalapathi Rao , Hema are Okay !
Analysis:
All telugu directors have their comfort zone and rarely wield out of it. Sreenu Vaitla has used his 'comedy template' to the point it is wildly rejected by audience. Similarly , Boyapati has been using his 'action template' – without much story backing. Vinaya Vidheya Rama follows a similar structure.
First half of the film is decent , it runs without much trouble to fans and masses. There are few high moments such as two good songs , and two great heroism elevations episodes to satisfy the fans. There is one Hema comedy episode which worked though. Once the high voltage interval fight is finished , trouble begins.  The whole second half has senseless violence with series of over the top scenes.
Ram Charan enters villains' locations from nowhere , with loads of ammunition – not once but on many occassions. He gets horses , eye dazzling blasts equipped for him in alien lands which give audience fatigue.  In one of the scenes , he travels on the roof of a highspeed train alas infamous Balakrihsna's train episode.
There is no justification to the title. In the whole movie, the lead star was anything but 'Vinaya Vidheya'. Ram Charan was coming off a super successful movie and Boyapati has mightily wasted this opportunity with a shallow story line.
Positives:
Interval Block
Saying sorry to Mukhesh Rushi scene
Charan dances
Negatives:
Senseless violence/fights. Too many action episodes without any premise
DSP music
Non existent story line
Verdict:
' Vinaya Vidheya Rama ' is a nothing but a medley of action episodes with a very flimsy story line. Given the festive season , the movie might rake in the money in Telugu states to some extent. Overall , it is a huge disappointment coming after super successful 'Rangasthalam'  !
T360 Rating : 2.25