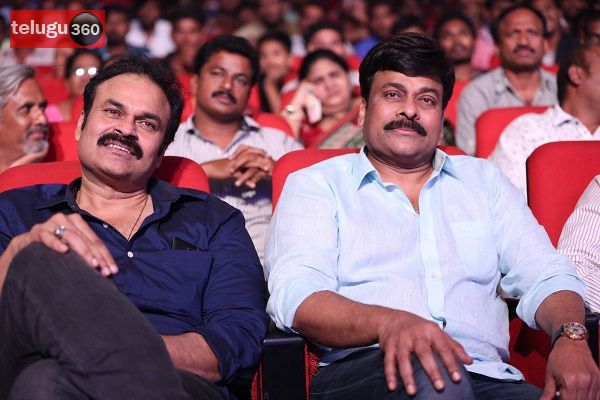 Finally, Nagababu had an emotional outburst yesterday at a function ( Gallery here ) organised in celebration of Megastar Chiranjeevi's 60th birthday. He had the guts to comment on the wild wolf whistles of Pawan Kalyan fans at functions of mega hero family members. It is usually observed that at every audio function of Ram Charan, Allu Arjun, and the gang, there are atleast 100-200 fans of Pawan Kalyan who occupy strategic corners of the auditorium and then at the opportune moment rabble-rouse the audience into hooting for Pawan Kalyan – who rarely attends events of the Megastar family heroes. The decibels are raised to deafening levels by fans of PK until the hero of the day responds to calm down and acknowledge the conspicuous absence of Pawan Kalyan.
In his outburst yesterday, Nagababu took on the fans of Power Star openly in the most unexpected manner. He pointed to a section of audience shouting slogans about Pawan Kalyan and confronted them directly: "Why don't you go to the office Pawan Kalyan and ask him why he doesn't attend our family members' functions? We invite him every time but he doesn't want to attend. Instead of asking us, why don't you ask him why he doesn't want to attend? Every time you come and disrupt the proceedings. This time it is over. Don't we want our brother to be part of our functions? But he doesn't just show up. What can we do? This is not fair." And he added that if the fans of Pawan Kalyan can, they should make Pawan Kalyan turn up at the function to launch his 150th film. This is the boldest statement that has come from the camp of Chiranjeevi family on the sensational and sometimes sensitive issues of why Pawan Kalyan never makes an appearance at the functions of the Megastar family members.
It is an indirect message to both Pawan Kalyan not to distance himself away from family of Megastar as well as to his fans not to steal the limelight from the function by instigating other fans at audio functions.