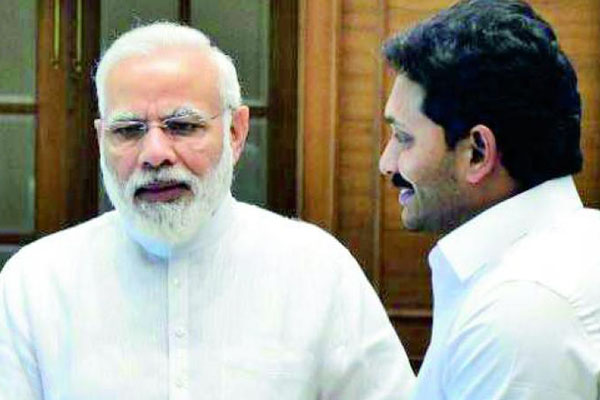 Barely few days left for the election and it is still not clear as to which party would YSRCP support in the Centre where the rumours are spreading about BJP asking YCP to merge into their party .TDP is a part of the 'Mahagathbandhan,' while JSP has formed an in-state alliance with BSP, CPI, and CPM. In the recently held India Today Conclave 2019, Y.S. Jagan Mohan Reddy said that he is not against anyone and would support a party which would grant the special category status to A.P. He further stated that he is keeping his options open. So, it is clear that he will not announce any alliance till the results of the elections are announced. This is a calculated move because announcing support to any of the national alliances will have a direct impact on the voters decision.
The conjecture in the state is that Jagan will support the BJP. Both, Chandrababu Naidu and Pawan Kalyan are alleging that Jagan is an ally of BJP and is deliberately staying mum about it. Aligning with BJP might be detrimental to YSRCP. In the past five years, BJP has neither granted AP the special category status nor extended any financial aid. Also, the 'Modi Wave' no longer exists. Demonetisation has distressed the common man and has dented Modi's image. Considering these factors, YSRCP might have chosen to remain silent about their probable alliance.
Amidst the secrecy and speculations, a common question is doing the rounds; why would Jagan support the BJP? Well, the reasons could be plenty. But, the main one seems to be to free himself from all the charges against him. According to the 47 pages affidavit presented to the election commission by Jagan, there are 31 criminal cases pending against him and most of them pertain to his disproportionate assets. Also, he was arrested by the CBI for embezzlement and was jailed for 16 months. However, he is neither proven guilty nor acquitted of the charges. Therefore, Jagan's predicament will be fully exploited by the BJP. Arm-twisting is not new to Modi-Shah. Post Jayalalitha's demise, they have manipulated the political scenario in Tamil Nadu and made sure that AIADMK joined hands with the BJP. Similarly, they will corner Jagan and demand his support in return for saving his assets. Consequently, Jagan will have to walk down that path in order to clear himself from the allegations and safeguard his assets.