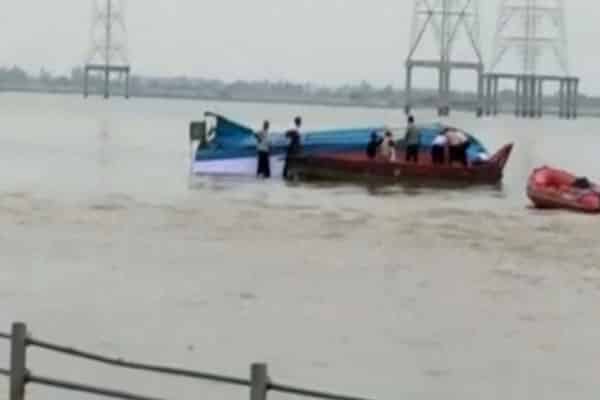 The boat capsize in Krishna river on Sunday caused a double tragedy to a family in Andhra Pradesh as a woman died of shock on seeing the body of her daughter.
Lakshmi Kantham, who was in a state of shock since hearing about the tragedy, collapsed when the body of D. Leelavathi reached home in Ongole town of Prakasam district on Monday. The 72-year-old apparently suffered cardiac arrest, resulting in her death, family members said.
Leelavathi (50) was among 20 people killed when a boat overturned and capsized in Krishna river near Ibrahimpatnam Ferry Ghat in Krishna district on Sunday evening.
Leelavathi was staying with her mother following the death of her husband 15 years ago. She along with 31 other members of Ongole Walkers' Club was on board on the boat which sailed from Bhavani Island to Pavitra Sangamam, a confluence of Krishna and Godavari rivers.
Over 40 people had boarded the private vessel to Pavitra Sangamam to witness 'Maha aarathi' ritual on the last Sunday of the auspicious month of 'Karthika'.
Leelavathi's daughter, who is studying in Vijayawada, lost both her mother and grandmother due to the tragedy