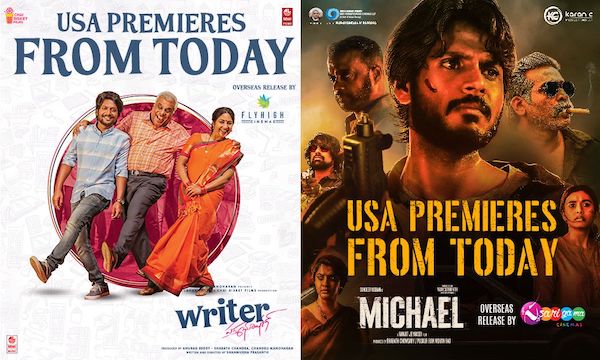 Writer Padmabhushan USA Premieres today!
All Set for Grand Premieres of out and out entertainer Writer Padmabhushan across USA from 6PM EST.
Renowned USA film Distributor Fly high Cinemas is releasing Writer padmabhushan in massive 120+ locations of united States which is the record for a small film.
The movie is carrying positive buzz with every promotional material clicking and paid premieres in telugu states gets blockbuster response from family audience. The film is touted to be Love , emotional entertainer and premieres  will be held today in USA i.e Feb 2nd.
Actor Suhas who always comes up with unique movies and performances proved his mettle with Color Photo and Hit 2 and is back with another interesting project – "Writer Padmabhushan", under the direction of debutant Shanmukha Prashanth, being bankrolled by Chai Bisket Films, in association with Lahari Films.
Produced by Anurag Reddy, Sharath Chandra, and Chandru Manohar under Chai Bisket Films, in association with Lahari Films. The movie is presented by G. Manoharan.
Book your tickets with Theatre Standard Pricing and All Passes enabled in leading theatre chains.
CLICK HERE! for "Writer Padmabhushan" USA Schedules.
Sundeep Kishan's "Michael" USA Premieres today!
The premiere of the latest Action Drama film "Michael", which is directed by Ranjit Jeyakodi and produced by Bharath Chowdhary and Puskur Ram Mohan Rao under the banners of Karan C Productions LLP and Sree Venkateswara Cinemas LLP will take over the cinemas in USA on 2nd February 2023.
The movie features Sundeep Kishan, Divyansha Kaushik, and Vijay Sethupathi in the lead roles, along with Gautham Menon, Varalaxmi Sarathkumar, Varun Sandesh, and many other supporting actors.
The movie "Michael" is an Action Drama film. There will be moments in the film that would keep its audiences at edge.
Makers and Overseas Distributors are confident that this action drama film will be memorable and steal the hearts of many audiences. Distributor planned this movie to screen with nationwide coverage to widely reach the Indian audience in the United States with screening of over 185 theaters.
Stay away from piracy and enjoy the movie on silver screen screens.
CLICK HERE! for "Michael" USA Schedules.
Content Produced by Indian Clicks, LLC