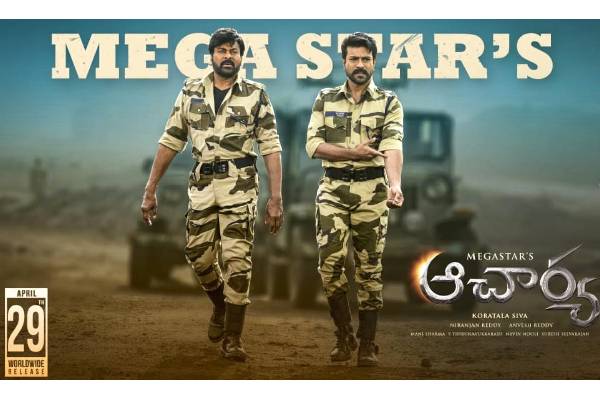 Acharya Movie Review
Acharya Review
Megastar Chiranjeevi and his son Ram Charan are teaming up for the first time through Acharya, a mass entertainer directed by Koratala Siva. The film is hitting the screens on April 29th with a record number of screens. Here is the complete review of Acharya:
Story :
Basava (Sonu Sood) controls the temple town Dharmasthali with his gang's making it a place of crime and dishonesty. Padaghattam's people, known for their ancient ways of dharma and Ayurveda knowledge, are also affected by Basava's atrocities. Acharya (Chiranjeevi) comes to the aid of the Dharmasthali and Padaghattam people. Acharya's relationship with Sidda (Ram Charan) is revealed in a flashback, which has illegal mining mafia background. The rest of the story shows how the two righteous men fight injustice and save the people of Dharmastali and Padaghattam.
Analysis :
15 minutes – that's how long it took to unveil the dated story. But the hope of grandeur hero introductions and high moments keep the audience waiting in their seats. Unfortunately, this does not happen. Mega Star's soft introduction and the following slow pace scenes just do not meet any expectations. An OK item song with Regina & Chiranjeevi and done with the first half. A good entry in the interval scene gives hope that Ram Charan as Sidda will uplift the movie in the second half. Did not happen.
The sets, characters, and dialogues are pathetic.  Padaghattam word is uttered in every other scene every other minute. Chiranjeevi doesn't have a platform to perform up to his mettle. Ram Charan's character is not a cameo or a 30-minute gig – pretty much the entire second half.
Neelambari song between Charan and Pooja Hegde is okay, Bhale Bhale Banjara song is good with Megastar Chiranjeevi and Ram Charan dances. The visual effects work is poor, production values are not grand.
Koratala Siva and his team failed miserably and were able to put together at least a couple of highlight scenes – something that fans could take solace in. With such a versatile actor duo, 2 Mega Stars no less, how could something like this happen? A simple outdated plot and uninteresting direction from Koratala – make it hard to get into the movie.
Positives :
Ram Charan's presence
Bhale Bhale Banjara Song
Item song for masses
Negatives :
Mega Star Chiranjeevi in Acharya's role is unimpressive due to weak characterization.
No entertainment, No fan elements
Weak story and direction
Verdict :
Acharya movie has a weak script and is further ruined by an unimpressive narration from Koratala Siva. The dated story couldn't do justice to either of the roles (Acharya/Sidda); it's another Mrugaraju in Chiranjeevi's career!
TELUGU360 RATING: 1.5/5
Release date: 29 April 2022
Director: Koratala Siva
Music Director: Mani Sharma
Cast : Chiranjeevi , Ram Charan and Pooja Hegde
Production: Matinee Entertainment and Konidela Production Company
Summary
Reviewer
Review Date
Reviewed Item
Author Rating