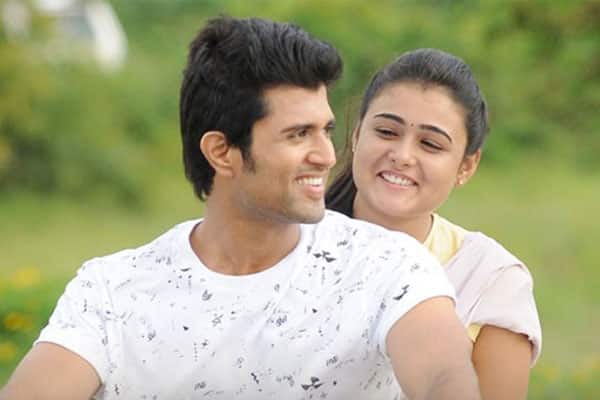 ARJUN REDDY is unarguably the most sensational film of the year, if we exclude S S Rajamouli's magnum opus Baahubali-2. The youth segment of the audience was bewitched by the trailer which had bold content. Adding fuel to the fire, incidents such as infamous pre-release function, Telangana Congress leader VH's objection to unapproved lip lock posters and Hero's arrogant interviews to the media, gave free publicity thus making it the most talked movie of the industry.
Upon release, Arjun Reddy majorly received rave reviews. The director-hero duo had breathed life into Arjun Reddy character, broke contemporary film making rules in every possible way. However, the hype surrounding this film did not convert into the form of collections at the box-office except in the USA market.
Made on shoe-string budget of 6 crores, on ROI (Return on Investment) basis, this film has to termed as a super hit. However, compared to other hit or average films of similar league Arjun Reddy's box-office performance is sub-par and surprise. So, far Arjun Reddy film has collected mere Rs. 16 crores in Telangana and Andhra Pradesh states combined.
A  perspective Box-office Analysis of Arjun Reddy has been documented in below paragraphs. The movies Bhale Bhale Magadivoy released in 2015 September, Nenu Sailaja in 2016 Jan, Nithiin starrer Gunde Jaari Gallatanyyinde in 2013 April, performed way better than Arjun Reddy even with lower rates.
To compare with recent films, Naga Chaitanya starrer Ra Randoi Veduka Chuddham has collected Rs 11.2 Crores share in AP, whereas Arjun Reddy was able to collect only half of it i.e. Rs 5.63 Crores. In Nizam, both these films performed equally.
In Ceded, Arjun Reddy has collected 2.1 Cr share where as Nenu Sailaja, Bhale Bhale Magadivoy , Gunde Jaari… collected 2.4C, 2.1C, 2.4C Respectively. Though not an appropriate comparison because of the class Vs mass genres, but just to give you a perspective, both Jaya Janaki Nayaka, Paisa Vasool collected 4.25C in Rayalaseema which is double than Arjun Reddy
In Nizam, where Arjun Reddy has been touted as done good business, collects 8.5 Cr share which is decent, but again this share is not up to the mark. Even Ra Randoi Veduka Chuddham was able to manage 8 Crores share, where as Gunde Jari Gallatayyindhe had managed 7.6 Cr share way back in 2013.
In Andhra, Arjun Reddy has collected 5.63 Cr share where as RRVC, NenuSailaja, Bhale Bhale Magadivoy, Gunde Jari Gallatayyindhe has collected 11.2C, 6.94C, 7.75C, 7.95C respectively
In USA, Arjun reddy has collected $1.75M gross to enter All Time top 10 grossers. In this territory, by all means Arjun Reddy is a super hit and had done extremely great business in initial days, Thanks to the positive web reviews.
Based on the above statistics it is evident that Arjun Reddy had no glitters at the box-office unless the measure is based on ROI. Family audience aversion and the arrogance displayed by the director and the hero in interviews, instead of striving for more general acceptance has caused some damage for its long run despite good openings initially. Some may argue that "A" certificate film has limited audience, which is only partially true. There were many A rated or violent or not family-friendly films from the past which have done great business at box-office.
In a nutshell, few you-tubers with vested interest and some in social media had flattered this film beyond its achievement. But, the mainstream audience did not care much about this next SHIVA. Arjun Reddy at box-office is yet another youth embraced film and Nothing more than that!!
Area
Arjun Reddy
Ra Randoi Veduka Chuddham
Nenu Sailaja
Bhale Bhale Magadivoy
Gunde Jaari GallantayyindE
Uttarandhra
1.5
3.65
1.92
2.1
2.55
Guntur
1.1
1.8
1.3
1.45
1.28
East
0.88
2
1.12
1.4
1.45
Krishna
1.1
1.72
1.2
1.3
1.17
West
0.65
1.33
0.9
1
0.9
Nellore
0.4
0.7
0.5
0.5
0.6
ANDHRA
5.63 Cr
11.2 Cr
6.94 Cr
7.75 Cr
7.95 Cr
CEDED
2.1
2.8
2.4
2.1
2.4
Nizam
8.5
7.95
7
7.15
7.6
AP+
TS
16.23 Cr
21.95 Cr
16.34 Cr
17 Cr
17.95 Cr