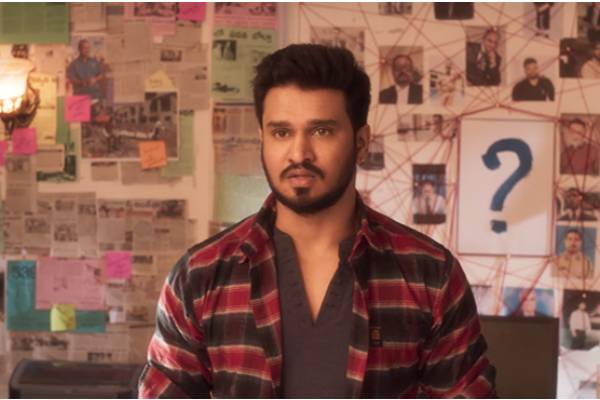 Arjun Suravaram Review
Telugu360 Rating 2.75/5
Nikhil Siddharth's long delayed film Arjun Suravaram is finally seeing the light of the day today. An official remake of Tamil thriller Kanithan, the film is directed by TN Santosh who helmed the original version. The suspense thriller revolves around fake certificates scam unearthed by a dynamic journalist.
Story :
Arjun Lenin Suravaram ( Nikhil ) is a TV channel reporter with social responsibility. He's framed in a educational loans scam and police arrests him. After released on bail , Arjun investigates to find out who is involved in the Education loans scam and fake certificates mafia. Rest of the movie is all about his moves to bring out the truth
Analysis :
First striking feature of ' Arjun Suravaram ' is production values. Producers have spent a good amount on this film and can be seen in various scenes. Story has a social message theme with fake degree mafia backdrop.
Movie takes off in interesting manner and first half engages the audience adequately. BBC job aspirant Nikhil's career takes a beat when he's got arrested in educational loans scam and apprently he tries to break the mafia behind it. Kavya ( Lavanya Tripathi ) role as a colleague to Arjun is a half baked one. Out of the few songs , one is good . Shot in foreign locations ' Kanne Kanne ' song is cool with rich visuals.
As Arjun sets counter trap to the mafia , first half ends. Second half gets into emotional mode when 48 kids die in a School collapse incident. Incident occurs due to the poor construction by a fake certificate engineer. Arjun's chase for fake certificates mafia gets repetitive at this point. With not so brilliant moves , film comes to climax and Arjun exposes the truth
Direction is good in patches. Being a remake , some loose ends should have worked out better.
Performances : Nikhil Siddharth got a role that would have elevated his range more . He performed well, supported by all other cast. Lavanya Tripathi role is half baked and nothing much to rave about. She looked, performed decent. Posani Krishna Murali got sympathetic role. Vennela Kishore , Satya got hero sidekick roles and spread some laughs . Nagineedu , Pragati are parents of hero. Vidyullekha , Raja Ravindra played other roles
Positives :
Good theme
High Production Values
Some comedy
Negatives :
Verdict :
Arjun Suravaram has engaging first half with it's different backdrop , gets into repetitive mode in second Half. If more creative stuff is infused to second half , this film would have hit success milestone. On-time release would have helped even more. Overall , not a bad watch !
Telugu360 Rating 2.75/5