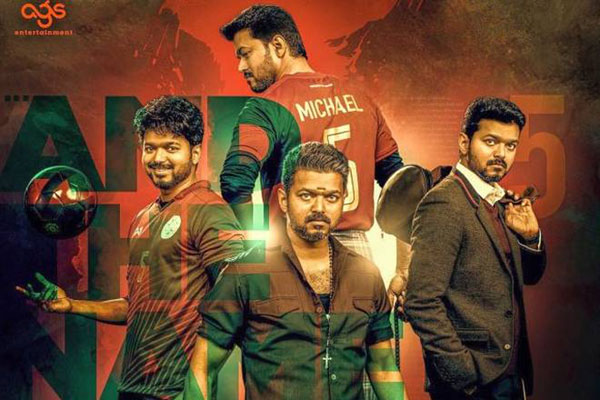 Bigil Movie Review
Bigil Movie Review
Telugu360 Rating : 3/5
Ilayathalapathy Vijay's movie Bigil hits the screens Today across the globe in Tamil and Telugu languages. The film directed by Atlee is set in the backdrop of football.Nayanthara is the leading lady and AR Rahman provides music. AGS Entertainments bankrolled the film and East Coast Productions is releasing the film as Whistle in Telugu
Story:
Bigil is a talented footballer whose father Royappan is a gangster in Chennai. Royappan , who stood against the evil gangs , wants his son to stick only to sports. His dream is to see Bigil plays in national team and brings laurels to the crime ridden local community. Whether Bigil is able to fulfill his dad's dreams or not is rest of the plot
Analysis:
(This reviewer has watched Tamil Version. Telugu version outcome might vary due to dubbing quality and nativity like factors )
Bigil starts off like any other commercial flicks, takes routine mass path for first 30 minutes. Vijay's trademark mass histrionics entertain his fans, movie makes no progress for a while. It gets intense after the father Royappan enters, his character brings much needed weight to the story. Bigil had to give up his passion due to the result of the violence that surrounds his life. Pre interval, Interval episodes are series of incidents that occur before Bigil's planned Delhi visit.
Director Atlee is able to deliver solid emotion and drama while narrating the backstories of two players; the homemaker and acid attack victim characters came out really well. Despite having grand production value, star technicians and glitter around, it is the emotional drama that lifted this film to success. Atlee showed his strength in emotions, from writing stand point he could have been better in rest of the story.
At regular intervals, Vijay's larger than life image has been utilized well by the director Atlee. Heroism elevation, mass mannerisms as such elements are a plenty. In second half much of the film is a typical sports film theme – Initially team in disarray, hates newly appointed coach ( hero ) , motivational song and underdog wins formula etc are shown in succession but with slow pace at times
Vijay is effortless in portraying two characters and three shades. His three introductions are feast for fans. Nayanatara as Angel got significant role which stands by Bigil throughout.
A popular football player Bigil, who played just 6-7 years ago , being unfamiliar to the present women team doesn't add up. They think he is mere Rowdy and hates him. Villainy is not strong enough, Jackie Shroff's character lacks much required punch.
All songs are good on screen, Singappenney song stands out with its colorful theme. A surprise special appearance in this song !Maathare song is another good one with its inspirational stuff
Positives :
Vijay 's superb performance in three variations
Royappan characterization ,Bigil mannerisms
Emotional scenes in second half
Social message around common hurdles sports women face
Negatives :
Length ( 2hr 55 mins)
Routine template at times
Poor villainy
Verdict :
(This reviewer has watched Tamil Version. Telugu version outcome might vary due to dubbing quality and nativity like factors)
Bigil is a cocktail of mass elements, social message and lavish making which strikes right chord at box-office. Director Atlee & Hero Vijay complement each other better than ever in this sports drama. If we excuse the length and few redundant scenes.. BIGIL is a decent watch for all , awesome watch for fans.
Telugu360 Rating : 3/5