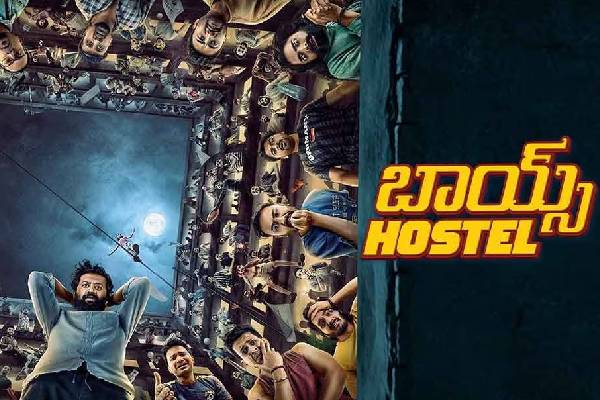 Boys Hostel Movie Review
Boys Hostel Movie Review
Telugu360 Rating: 2.5/5
Story: Ajith, a student who aspires to make a short film creates a script that becomes reality when the hostel warden is found dead under mysterious circumstances. The students, whose names are listed in the suicide note, try to escape from the possible police case. What follows the warden's death is fun combined with twists in the plot.
Analysis: The movie script is an unconventional one and doesn't stick to a particular genre. It starts off as a youthful comedy, turns into a thriller, and is whacky at times. The opening sequence is an interesting one in which part of the film opens, and soon the film opens part 1. Though it sounds confusing, in the film it has been cleverly done. The film is about Ajith who tries to make a 5-minute duration short film, but circumstances force him to make a full-length film. Ajith's film is about a warden's suicide and his suicide note. The hostel warden is shown as a strict person, the student's gang is a typical one. The situational comedy arises when the students try to hide the dead body of the warden. The last 30 minutes of the film have decent comedy. At a certain point, it seemed as if the director was running out of ideas, but he managed to keep it engrossed with some unexpected twists and turns.  Director Nithin Krishnamurthy comes up with appreciable effort in this film, Cinematographer Arvind Kashyap's work is tough to make it look like a short film. The Telugu dubbing is good, dialogue dictions are authentically taken care of. However, the dialogue in Telugu mostly sounds like voice over than the conversation between the characters. Telugu dub writers tried hard to infuse contemporary social media viral language.
Positives:
Young Actors ease
Quirky theme
Director's unconventional approach
Negatives:
Cliched second half
The attempted comedy doesn't appeal to all sections.
Verdict:
An unconventional film made on short film frenzy youngsters. This film might appeal to a limited section of youngsters for its quirky humor. The actor who played the warden did well. The comedy works on a few occasions and drags on often. Overall, an average film for youth.
Telugu360 Rating: 2.5/5
Release date: 26th August 2023
Director: Nithin Krishnamurthy
Music : Ajaneesh Loknath
Cinematography: Arvind Kashyap
Producers: Annapurna Studios
Summary
Reviewer
Review Date
Reviewed Item
Author Rating