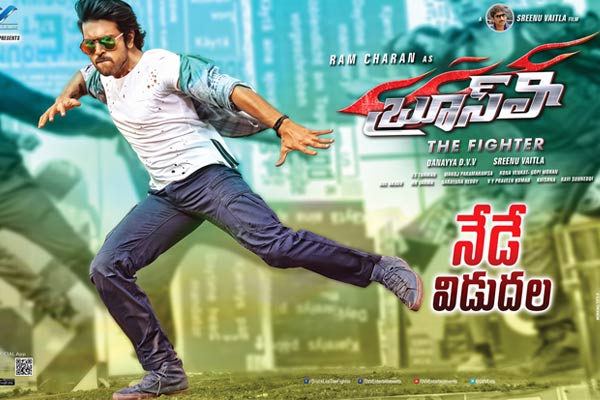 [intro] The much-awaited "Bruce Lee" is a concoction of Srinu Vaitla's templated entertainment. It is neither different nor justifies the title. [/intro]
When you keep a weighty title of a phenomenon called Bruce Lee, you expect the film to be more than trendy dances, routine family sentiment and groovy music. While the audio suggested this is a masala film, one expected Srinu Vaitla to learn from his previous debacles in recent past and outgrow his templated version of entertainment – a normal middle-class family, clash with a family different in affluence and influence, a hero who shields his family from the evil and then legitmising his para-legal methods by turning him into an undercover cop with help from Brahmanandam. Can Tollywood in particular and Srinu Vaitla in general ever think beyond these themes? No surprise, "Bruce Lee" is a disappointing retake of the same formula plots that have been milked to death by Srinu and writers Kona Venkat and Gopimohan in films like "Badshah", "Dookudu", "Aagadu".
Story:
The story is about a family in which the father favors his son more than daughter as an investment for higher education but then shifts focus to the daughter once the son slips in studies (wilfully, to egg on the sister). Rao Ramesh as the father, Kriti Karbanda as the sister and Ramcharan as the brother who dotes on her and goes the extra mile to save her out of any crises. Ramcharan grows up to become a sought-after stuntsman. He has only one goal – to make her an IAS officer which is also the goal of his father. His father resents him as a good-for-nothing fellow but Karthi (Ramcharan) keeps pulling out all stops to protect his family from any troubles even if his father discredits him. Into this family come the affluent couple of Sampath and Nadiya (the promoters of the same company in which Rao Ramesh works) who seek Rao's daughter as a match for their son. But there is a twist in the story, But Sampath has a negative side to his public image of a large pharma company chief. And that has an abrupt run-in with Karthi (Ramcharan) in the second half. Eventually, Karthi polishes off the villains with a quasi-comedy track involving Brahmanandam.
Actors: 
Ramcharan as the Filmy stuntsman does justice but in emotional scenes, he couldn't cary the affections well. What he lacks in softer emotions, he makes up in eye-popping dance sequences and fast action. The number of groovy steps in each of the songs makes him a contender for the top slot in dancing after this movie. But he needs to pay serious intention to train his diction and emotional connect – at many places, his expression or body-language is monotonous and lifeless, this cannot go on for a hero. Rao Ramesh is the only actor who delivers a knock-out performance. Sampath is an improvising villain who knows how to mint many expressions into one. Kriti Karbanda is very cute as Ramcharan's sister. Rakul Preet Singh oozes glamor on a scale never done before. Almost all her dressing especially in songs make her look ravishing and cute. Arun Vijay has good mettle but the camera's focus rarely highlighted his intensity except once in climax. Comedians like Saptagiri has got more laughs than Brahmanandam. Brahmi's role not new  – repeat of Srinu's films.
Direction: 
The movie's length of 155 minutes is a big drawback of the film, something that Srinu Vaitla has never cared in his career. Despite the hackneyed story, Srinu inter-mixes with comedy and action but fails to create impact and freshness. Because of his inability to maneuvre the screenplay with fast cuts, Srinu has a laborious route to entertainment. He has to go linearly from point A to B to C. He can't jump-cut his way to winning viewers with crispness. So even if it appears different, the template stinks with deja vu feelings. Excessive reliance on two star writers like Kona and Gopi make his fare look stale and at times, regressive – for example, the male-fixation is offending, we see the entire story revolving around the hero's commitment to make his sister an IAS officer but that moment of crowning glory never comes in the film even in the end.
Other technical details
Technically, cinematography by Manoj Paramhansa is brilliant and eye-catching. Ramcharan looks better in all the songs and his pairing with Rakul Preet is pleasant.  Music by Thaman has become a hit but whenever the film doesn't hold good, music of Thaman cannot air-lift the film into a better situation. Despite the melody in the three duets and the sensuous picturisation, music in BGM was evocative only when the sister sentiment appears. Rest of the time, the music just plays.  Dialogues by Kona Venkat and Gopimohan didn't produce the high-decibel laughter known in previous films. The only dialogue that got huge response was "this is like Dhoni lifting the cup even if the century is hit by Kohl."  The first half looked picture-perfect with some good comedy scenes by Saptagiri, Jaiprakash and others. It is the second half that drags and loses its way. With only two songs, including the melodious "Le Chalo", the overdose of dual role confusion and the drama that follows goes into an overkill with redemption coming only with the spectacular entry of Megastar in a helicopter landing on the ground. Those five  minutes of Megastar appearing as a film star himself is electrifying and only gets wolf-whistles throughout the scene. Despite being out of sync for so many years, Chiru's screen magic is undiminished. 
The Final Word: 
The biggest drawback of the film is why the title 'Bruce Lee' for a stunstman who does odd jobs to save lives and build careers. There are countless fans in the world who always say,"Bruce Lee made a difference in my life." But the film doesn't show even one sequence in which Ramcharan felt inspired by Bruce Lee except to show a passing shot of martial arts masters like Jackie Chan and Bruce Lee. Except a prefatory quote by the legend and a tattoo of the master on the elbow of the hero, there is no title justification. This is a golden opportunity wasted because many of the martial arts movies devote a sequence or two to the man-making, inspirational force that legends like Bruce Lee to motivate people to care for and nurture their bodies and bring out the best in them. Out of a dozen odd fight sequences, not one of the sequences is shot like a Karate sequence or the use of nunchuck (weapon used by Bruce Lee) shown to self-protect. Consequently, none of the stunts look impressive despite an overload of them. That is the biggest let-down in the film. In another decade or so, we may never have a film titled "Bruce Lee" and today's youngsters can't even find a passing mention of the original Karate Kid in the film, not even as a footnote.
The paisa-vasool scene in the film is that shot which shows Megastar Chiranjeevi in a five-minute action sequence just before the curtains close. That scene itself was like a buildout to scenes before and Chiru looked gracious and rugged at the same time. On the whole, "Bruce Lee" is a forgettable film of Ramcharan which can be skipped if you hate templated movies and zombie family-comedy plots. But if you like to see Chiru's 150th screen appearance or Ramcharan's rockstar dances, you may just fast-forward to them and snooze for the rest. There are enough lessons from the film for both Ramcharan and Srinu Vaitla to re-invent themselves. Despite weaknesses in his emoting, Ramcharan looks most stylish, fit and amazing in his dance performances. He aced it up with the multiple complex movements in the songs – and each song from "Run", "Le Chalo" and "Riya"  and "Mega Mega Meter"  has a signature groove that will strike gold with the fans.  From Ramcharan's point of view, this film showcases him as a caring and affectionate brother who always stands by his sister and fights for her till the end. The scenes between Kriti and Ramcharan are quite modern and there are some good dialogues between them. Like when, he asks her "what gift do you want from me now?", she says, "You are the biggest gift to my life." After proving himself again and again at the box-office, Ramcharan has to decide when the next experiment is coming that pushes him to explore his acting calibre.
T360 Rating: 2.75