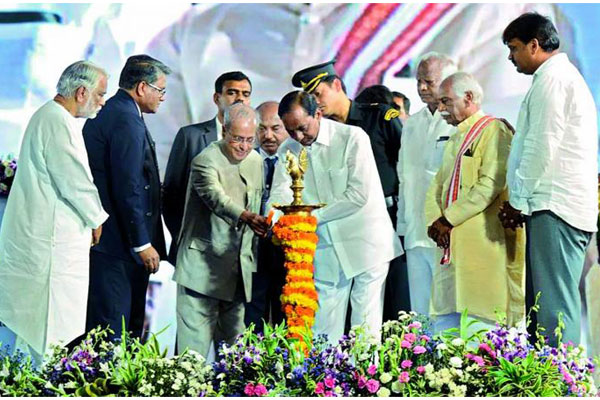 Nearly three years into the state formation Chief Minister K Chandrasekhar Rao hardly visited the Osmania University. It was the first time that the CM entered the premises on the much hyped OU centenary celebrations which turned out to be a dull affair. The invitation card mentioned that apart from President's address, speeches will be given by the Governor E S L Narsimhan and the Chief Minister K Chandrasekhar Rao. Neither the chancellor Narsimhan nor the alumnus KCR were allowed to speak and the program ended ahead of schedule.
A day before the celebrations, police had a meeting with the student unions and requested them not to agitate and allow the celebrations flow smoothly. However, some groups of students allegedly decided not to let the CM take the attention. Inside the venue, his speech was anyhow cancelled, outside the venue students were seen raising slogans against him. After the session, students marching towards the hostel raised anti-government slogans. There is a growing discontent in the students as the TRS government failed to address the two key issues of unemployment and fee-reimbursements.
It was apparently a late-night decision when the VC was informed by the CMO about the cancellation of his address. Vice-chancellor S. Ramachandram gave a welcome address, followed by the President's speech and Registrar Gopal Reddy gave the vote of thanks.