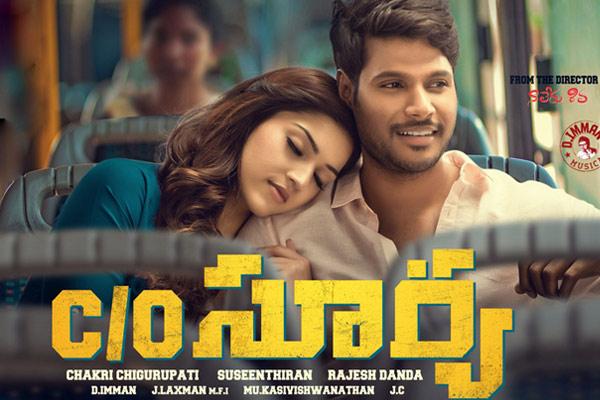 C/o Surya Review, Care of Surya Telugu Movie Review
Telugu360 Rating : 2.75/5
Story:
Surya (Sundeep Kishan) is a happy-go lucky-guy, who is very helpful to friends and lives with his sister and mother. One of his best friends, Mohan (Tamil actor Vikranth) falls for Surya's sister. Meanwhile, a supari killer Samba Sivudu (Harish Uthaman) tries to kill Mohan. Realizing Mohan's life is under threat, Surya tricks police to arrest his friend so that he'll be safe in police custody rather than outside. Public perceive that Surya might had pushed his friend behind the bars due to his sister's affair with him.
Rest of the interesting story is how surya and mohan takes on Samba Sivudu.
Analysis:
C/O Surya has a no-nonsense story written with multiple engaging threads within. Director Suseenthiran, who his peculiar style and ease in narration intense thrillers, made sure that whole proceedings maintain enough suspense till the end. Surya's bindaas life with his friends and love interest with Janani (Mehrene) is the first thread, Samba Sivudu's intelligent supari killings is the second and Surya's sister – Mohan love relation is the third one – Total three threads run in parallel and interlinked at a crucial point. Except Surya's love track , the remaining two are narrated in an engaging way by the director.
He has taken his own time to establish the core conflict point.Until the protagonist's family is attacked by antagonist, movie proceeds at a leisurely pace. Once Surya realises someone is trying to attack his family, the screenplay turns out to be quite racy keeping the audience invested in the narration. The director has excelled in designing the supari killings of Samba Sivudu. The planning to make the murders look convincing and the diversion techniques are interesting for audience. The family sentiment, friendship thread and crime suspense work to a satisfactorily extent but the love between Janani – Surya has been not been showcased properly. Only one song ' Modalavutondaa .. ' looked good on screen.
Performances:
Sundeep Kishan as an actor is quite natural and played the role with a lot of ease. His previous films might not have provided him a platform to showcase his acting abilities fully, but this film gives enough scope to perform. Mehrene got a limited role and she does a neat act. Tamil actors Harish Uthaman and Vikranth did very well. Satya and Praveen are also adequate.
Technical:
Cinematography by Laxman Kumar stands out in technical aspects. Most of the film has been shot on outdoor with real locations( on busy roads). The camera angles are very interestingly captured. Composer D.Imam has given good background score, but his songs could have been better. Editing by viswanth is fine – the slow pace in first half is director's liability, but not editor's. Director Suseenthiran's signature is visible throughout the film except ability to insert commercial elements.
Verdict:
C/O Surya is a decent crime and suspense thriller laced with family backdrop. Director suseenthiran has succeeded in narrating this film with engaging screenplay and enough suspense. Since comedy, songs and commercial elements are not thoroughly explored, box-office potential is a little doubtful. For those who like different films, who don't mind non-star films, C/O Surya makes up for a decent watch.
Telugu360 Rating : 2.75/5
Release Date : 10th Nov, 2017
Director : Suseenthiran
Music Director : D. Imman
Choreography : Laxman Kumar
Production Company: Lakshmi Narasimha Entertainments
Starring : Sundeep Kishan, Mehrene Kaur Pirzada