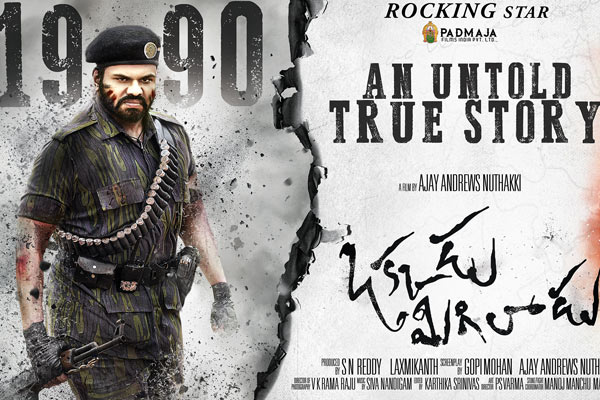 Okkadu Migiladu Review, Okkadu Migiladu Movie Review
Telugu360 Rating 1.5/5
Surya (Manchu Manoj), a Srilankan refugee, fights for justice in 3 university girls' death case. As minister's two sons are involved in the case, to protect them, police arrest surya in a fake case. While in custody, Surya narrates his flashback to one good cop (Posani) out there.
Surya narrates the ordeal of tamil origin people in Srilanka. One of the heart-wrenching episodes is in which a group of tamil people from the island nation try to cross the sea and reach the Indian coast. However, they lose their way in the middle of the sea and face lot of difficulties.
Rest of the story is about the plight of the refugees in the boat and how Surya resolves the issue in India.
Analysis:
This film is an official remake of tamil film 'Ravana Desam', but it was not officially announced. Majority of the film's visuals have been reused from Tamil film. In case of remakes, people do usually re-shoot the film. In this un-usual case, entire second half i.e. the entire boat journey scenes and action episodes from first half, are re-used from Tamil film. Only the hero character has been changed.
Okkadu MIgiladu is a kind of dark thriller. The interrogation scenes in first half are violent and the entire second half is crude and appalling. First half starts off in routine manner, but things turn a little interesting as Surya narrates how their village in srilanka suffered between LTTE and Government. However, the director couldn't build a gripping story after this point.
Second half has too many tear-jerking episodes but it's not fair to expect commercial elements. While we feel sorry for the refugees who are dying one after another in the boat, the over sentiment gets boredom beyond a point. This true story is narrated in a hard-hitting manner but it fails to capture the interest at any point in the film. Many scenes could have been censored. V.K. Ramraj's Cinematography deserves special mention, particularly the boat sequences are well presented.
Performances:
Manoj Manchu got a different role(s) in this film. As Surya his dialogue delivery is OK, but as peter he is loud and diction lacks clarity. He looks bulky and needs to cut down his overweight to sustain. Aneesha Ambrose as TV reporter is adequate. Director Ajay played a very good as Victor.
Verdict:
On the whole, ' Okkadu Migiladu ' is a futile attempt to depict the ordeal of srilanka refugees who escape from srilanka to reach India. The refugees' boat journey covers entire 2nd half and their fight with srilanka army is showcased in the first half. An overdose of violence, excessively sentimental scenes and lackluster narration make audience restless throughout the film.
Telugu360 Rating 1.5/5
Release Date : 10th Nov, 2017
Director : Ajay Andrews Nuthakki
Music Director : Siva R Nandigam
Choreography : Yuvraj's Sangeet
Production Company: Padmaja Films
Starring : Manchu Manoj Kumar, Anisha Ambrose