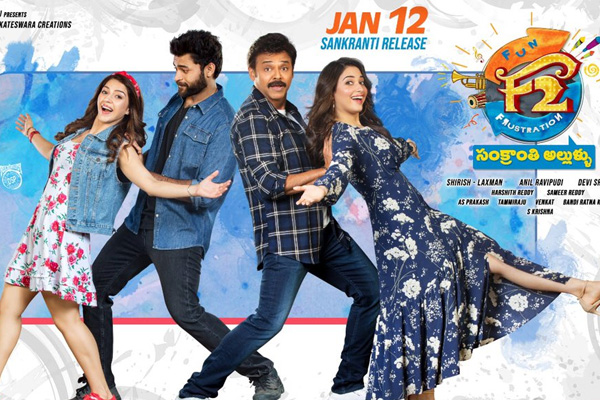 F2 – Fun and Frustration Review
F2 – Fun and Frustration is tipped to be a perfect Sankranthi entertainer for audience. Directed by successful filmmaker Anil Ravipudi, the film has Victory Venkatesh and Varun Tej in the lead roles. Tamannah and Mehreen Pirzada are the female leads.
With good buzz in audience and trade circles, F2 is released today. Let's find out the verdict
Telugu360 Rating : 2.75/5
Story :
Harika (Tamannah ) and Honey ( Mehreen ) are two beauiful sisters with attitude and high-handed characterstics. Venky ( Venkatesh ) who works as a PA to MLA , gets married to Harika in an arranged setup. Varun Yadav ( Varun Tej ) , who is a Hyderbad basthi youth likes Honey and engages with her.
Post marriage, Venky's life turns frustrating as Tamannah and her mom take over the proceedings at home. As soon as Venky finds Varun is his to be Co-brother , warns him not to join this family. But, Varun doesn't gives an ear to Venky. After realising the mess they're into, Venky and Varun , as advised by a neighbor ( Rajendra Prasad ) , goes to Europe trip. Knowing this Harika & Honey too go to Europe. All these characters end up at Prakash Raj Home in Europe.
Rest of the story is about Why they join Prakash Raj Home , Did Venky / Varun succeed in their attempts to break the relation ? Who realizes first – the wives or the husbands ? etc. fun..watch it on Big screen !
Performances :
Venky (Venkatesh) is the star of F2. For the generation who have grown up seeing Venky in Nuvvu Naaku Nacchav, Malleswari, F2 takes you to those days. His dialogues and comedy timing are excellent in the first half. Varun Tej is just par for the course as co-brother. Telangana slang used for him is artificial and doesn't gel well. Tamannah is good and Mehreen mannerisms are over the board at times. Rajendra Prasad as the neighbor for Venky is good in few scenes. Prakash Raj appears in the second half as an affluent NRI and is wasted. Raghu Babu as MLA and Priyadarshi as Varun Tej's friend are OK. Y. Vijaya and Annapurna play Grand mothers of the lead sisters.
Analysis :
As promotional videos hinted , F2 film is an out and out comedy genre one – which doesn't mind about having story depth or logic etc. critics' structure. Director Anil Ravipudi , as in his past films, shows strength in dialogue writing , generating situational comedy in first half. He picked up evergreen formula " Bharyaa Bhaditulu " and added contemporary treatment to it. What happens when our protagnists fall into all women dominant family ( of heroines ) context generates ample fun in first half which aptly backed by master of this genre Venky. Though slightly redundant , first half is full paisa vasool & attempts non stop comedy. Third song where two couples dance in intoxicated state, will be biggest commercial point with masses. As interval is done , the entertainment fizzled out though they keep on trying to make us laugh. Prakash Raj home episodes are pale , climax is farcical.
VarunTej's forced telangana accent isn't good, his characterization is okay.
Positives :
* Good comedy in the first half
* Vintage Venky is back and will find audience with his lady fans
Negatives :
* Climax and most of the second half
* Songs by DSP could have been better
* Thin Storyline
Verdict :
F2 – First half is 'good fun' and second half is 'partly' frustrating. Movie starts off with nice situational comedy ,things turn southward in the second half after the story moves to Prakash Raj's house in Europe. Overall, you can give it a try for decent first half and some slapstick comedy.
Telugu360 Rating : 2.75/5
Release Date : 12th Jan, 2019
Director : Anil Ravipudi
Music Director : Devi Sri Prasad
Choreography : Sameer Reddy
Producer : Dil Raju
Starring : Venkatesh, Varun Tej, Tamannaah Bhatia, Mehreen Pirzada