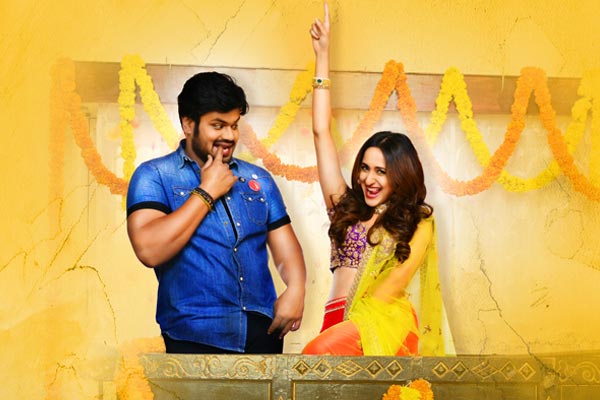 Gunturodu review, Manchu Manoj Gunturodu telugu movie review rating
Gunturodu movie review
Manchu Manoj is one actor who is desperate for a break. His last hit came way back in 2010 and he has been going through a lean phase with a string of flops. He is now confident of striking back hard with his latest release Gunturodu.
Let's see if Gunturodu hands the much needed hit to Manoj and brings him out of the rough patch or not.
Read : Kittu Unnadu Jagratha Live updates, review here
Story:
Set in Guntur city, this story revolves around a gutsy guy named Kanna ( Manoj Manchu) and a short tempered criminal lawyer Seshu (Sampath). Seshu is one of the influential persons in the city and is known to be very egoistic and gets irritated with slightest disturbance around him. Kanna disregards the background of any person who indulges with him.
At a birthday party, fight erupts between Kanna and Seshu , the former beats the latter. But Seshu doesn't know who beat him. Once Seshu realizes it was Kanna who injured him, he attacks Kanna and his father (Rajendra Prasad). Amrutha ( Pragya Jaiswal ) is the sister of Seshu , lady love of Kanna. Rest of the story is about how Kanna and Seshu try to outsmart each other.
Read : Dwaraka Live updates, review here
Performances:
Manchu Manoj's dialogue delivery in scenes where he challenges is good. Sampath equally excelled as a crooked lawyer role. Senior Hero Rajendra Prasad got lengthy role after a while and did justice to it. Pragya Jaiswal is fine both in her acting and looks. However, Manoj seemed overweight in his appearance. If he wants to continue in hero roles, it's high time for him to hit the gym and lose a few pounds. Comedians' gang Prudhvi, Praveen and Satya hardly evoked laughter. Kota Srinivasa Rao as a senior politician is a good fit. Actor like Rao Ramesh was wasted.
SPONSORED AD: Kaatamarayudu in Overseas by Cinegalaxy Inc. Call or WhatsApp 972-953-5226 for trade enquiries. 
Analysis:
The movie is an old script with new-gen actors. The director did not even try to up-cycle the same old script which is all the more disappointing. From the very first scene to the climax everything is predictable. This movie unlike any other Manoj movie turned out to be a routine mass movie The movie begins with Chiranjeevi's voice over about the hero's childhood. Like any other movie, the grown up hero displays his heroism when a trader attempts to defraud the farmers in Guntur market yard. Despite having huge scope to show fights, romance, villains, comedy and sentiment, the film failed to live up. The movie revolves around a villain who wants to kill the person who hit him with beer bottle which sounds ridiculous. The director did not put in enough efforts to cater to at least the mass audience. Emotional scenes between father and son, brother and sister are ineffective. The director did not even attempt to make the most of the opportunity given to him. Especially the climax scenes which were very bland. The comedy track was wholly neglected.
Technical Details :
The two songs by Sri Vasanth and its narrative was good. The only strength is the cinematography. The movie has good production values. The director was least bothered about novelty and just shot what was written. The director will realize after this movie that the combination of romance, comedy and sentiment has to work out well for a commercial film, even if it is the same old script
Verdict:
Gunturodu first half is mediocre, second half is slightly better. Overall, it is one-time watch for mass audience. Appropriate comedy and couple of good songs would have changed the box-office fate of this film.
Telugu360 rating 2.5/5
Release Date : Mar 3rd, 2017
Director : S.K. Satya
Music director : DJ Vasanth
Producer : Sree Varun Atluri
Cinematography : Siddharth Ramaswamy
Starring : Manchu Manoj, Pragya Jaiswal