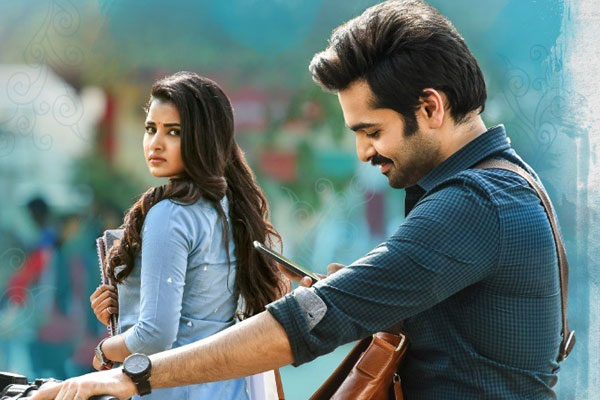 Hello Guru prema kosame Review Rating
Telugu360 Rating 2.75/5
Energetic star Ram and happening beauty Anupama Parameshwaran teamed up with Dil Raju for a youthful romantic entertainer titled as 'Hello Guru Prema Kosame'. The film is a crucial one for the trio as they are looking to end their string of debacles. Will HGPK be the comeback film for Dil Raju and Ram? Let's find out.
Story:
Kakinada resident, youngster Sanju (Ram Pothineni) moves to Hyderabad as a trainee software engineer. Sanju stays at their family friend Prakash Raj's home in Hyderabad. Sanju tries to woo his office co-worker Ms. Reethu (Pranitha), but soon relalizes he is actually in true love with Anupama – Prakash Raj's daughter. Story takes another turn when Prakash Raj promises his daughter to marry an NRI. Ram and Prakash become good friends, a 30 days friendly challenge between them lock.
Rest of the story is about how Ram wins Prakash & Anupama's etc
Performances :
Sanju role is tailor made for Ram, his best role after ' Nenu Sailaja '. He performed well In comedy , emotional scenes. Anupama Parameshwaran as Anupama is decent , fits into calm going girl who respects father. Prakash Raj role as father of Anupama has a different shade – a ' Bommarillu father with comedy touch ' , obviously he excelled. Pranitha Subhash has played Ram's colleague Reethu role , she is adequate.Aamani , Sitara and Posani played other roles.
Analysis :
' Hello Guru Prema Kosame ' first half has a traingular love story with decent comedy touch. Second half deals with friendly challenge between Ram and Prakash Raj and is passable as well. The story is very simple one , what makes it different is the lighter vein narrative. Director Trinadh Rao handled this film with ease , stuffed with comedy moments at times. It ain't a rib tickling comedy , but for sure a healthy comedy one that deals with an youngster's career , love journey. Dialogues by Prasanna kumar Bezawada are an asset. He succeeded in both humor , emotional dialogues.However, his tendency to write too lengthy dialogues won't go unnoticed – if he watches out on this weakness , a good dialogue writer for Tollywood is in store.
On flipside , Ace music director Devisri prasad tunes fail to enhance the film range – songs are quite average. The love scenes lack any depth and are flat. Production values by Dil Raju's SV creations are mediocre , more richness in making is required to retain the banner's brand value.
Positives :
Ram's performance
Adequate comedy throughout
Youth appealing subject
Negatives :
Predictable story with weak climax
No emotional depth in scenes
Songs
Verdict :
' Hello Guru Prema Kosame ' is a decent comedy entertainer if you don't mind it's predictable theme. Families and/or youth – Movie buffs may give it a try , you won't regret watching it.
Telugu360 Rating 2.75/5