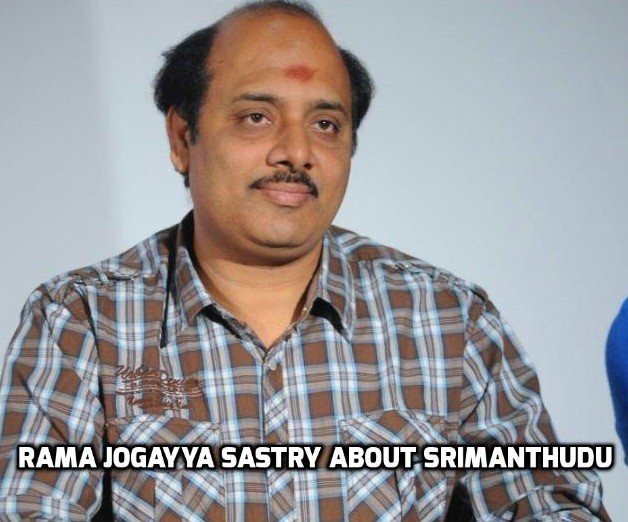 Ramajogayya Sastry is one of the most successful lyricists of Tollywood following in the footsteps of the versatile Sirivennala creating a distinct mark for himself. With over 500 songs to his credit and into his tenth year of lyric-writing for Telugu films, he chats with Sridhar Sattiraju on his work for "Srimanthudu" which has already generated great appreciation.
How was the experience working with Mahesh Babu as a single card lyricist? You worked with him before…
It is a normal experience for lyricists because the songs were all written for a good story. All the six songs have got good variety, and I always wanted to be an all-rounder. Content is more important so I wanted to give my best shot in this film. Its been a great experience working with Mahesh Babu garu. I have written some good songs for him in "Dookudu" and "Khaleja". I never felt pressure writing for a Superstar. On the contrary, it was a thrilling experience, something to cherish, working with him.
Tell us how the songs were composed. Were there any suggestions from the director?
All songs were composed with DSP, director Siva and myself discussing the situation and some hooklines or buzz words. For example, it was DSP who came up with the word "Charuseela" when the tune was composed for the song "Charuseela Swapna Bala" and I wrote the lyrics accordingly. For the mass song in the last, usually DSP always comes up with a unique mass phrase or word combination. This time I suggested, "Dimma Tirige Dimmaa Tirige" and completed the mass lyrics which is already a hit song.
Tell us how the song "Rama-Rama" and other songs were written. Was there any improvisation on the sets?
From the start to finish, all the songs took varied time. The song "Rama-Rama" was composed like a folk song to celebrate the virtues of Rama by the retelling of Ramayana in a nutshell. You will find that the song itself will embody the qualities of hero Mahesh Babu in the story of the film, similar to Rama. "Jata Kalise Jata Kalise" is a montage song which kept getting improvised by me right until the end. The song's lyrics actually got completed ten days before the song was shot itself. "Srimanthudaa." Is a short and sweet song which reflects the theme of the story. It unfolds a different aspect and comes at a very crucial turning point of the film – the audience will be thrilled when the song plays as a montage. I have already spoken about the other three songs. "Jago Jago Re" is again a good song sung by Raghu Dixit who is one of my favourite singers. (He also sang "Chalo Re Chalo Re" from "Jalsaa").
What was your experience working with director Koratala Siva?
Siva is a director who believes in content-based stories. He also believes that a lyricist or a writer has to travel with the director throughout the journey of shaping and executing the script. I first worked with him in "Mirchi". After I wrote the lyrics for just one or two songs, he decided I should write the lyrics for all the songs. Same thing happened with "Srimanthudu". He is a director who believes that the writer should be on board, he believes in proper story-telling , he wants to cook a story complete with family emotions. I used to get a good number of briefings from him, infact many briefings for each song. I was involved in the rushes, in the editing room. As a director, he has given me space and time. I am not a writer who gives output in quick time, because any quality output takes time. Siva understands this very well.
Which is your favorite song?
A lyricist likes all songs. But I like "Jago Jagore Jago" because I like Raghu Dixit's voice. But "Srimanthudaa" is the best because I feel I have written some exceptional lines.
Who inspired you most?
A writer will have many inspirations and they change from time to time and at different points there are different inspirations. But if I were to pick a father-figure, someone who has been more than a Godfather for me, it is Sirivennela Seetharama Sastry garu. I owe a lot to him.
Last question, you do make a cameo appearance in films occasionally. Do we see you in "Srimanthudu"?
Yes. I will be appearing for a few moments in the song "Rama Rama".