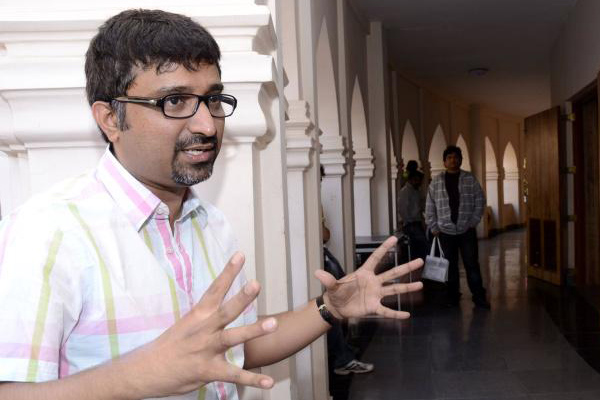 Indraganti Mohana Krishna Sammohanam Interview
Nagaraj Goud
It is difficult being a Tollywood director. You deliver hit in a particular genre and the chances of your next film producer asking to you to repeat the same genre are ample. Many directors obliged to this in the past and are continuing to do so in the present too, but Indraganti Mohana Krishna stands out. Since the beginning of his career, he hopped genres and his latest, 'Sammohanam', is his first shot at full-fledged romance after his last, 'Ami Tumi', a rib-tickling comedy. The Sivalenka Prasad production has opened to favourable reviews and Indraganti is naturally a happy man. "The openings were decent but it has picked up later in the evening (on Friday). With the trade declaring it as a hit, it's only but natural for it to gain more momentum," he tells us.
The director's phone has been ringing ever since the preliminary reports poured in from the US, with many telling him that the second half's length could've been a little longer—more as they didn't had enough of the romantic drama. But that was the choice he had to make. "Editing or structuring the film is a struggle and on top of it, ours is a film-based film with no star power attached to it to attract initial footfalls, so it was a choice between 'should we keep 10 minutes more or should we structure in a way that it'd be better if people felt it should've been a little longer'. I chose the latter," he smiles, while adding, "But then the audience are the final judge and if they felt that the film could've gone into extra minutes, it sure is a flattering remark."
Told in a linear fashion, 'Sammohanam' is a love story between a children's book illustrator (Vijay) and a Telugu superstar actress (Sameera Rathod) with poignant and comic moments aplenty. Ask him whether he always wanted to tell it in a linear mode and he states, "For a major part, the film is told from the point of view of Vijay and only towards the end, I had to spend five-six minutes on telling Sameera's back story, albeit in a flashback way. In fact, if I started from that point, it would've been darker, while I wanted the film to be vibrant and positive.
"I want to make my next film in a complete linear way. If we go back and forth continuously, it'd be a bit tiring for the audience to process the information."
He informs that he was surprised with a section's observation about the film getting predictable as it neared the finale. "I was like, 'What is predictable about it? When did you see a pre-climax like Naresh's? And when did you see a children's illustration echoing what happened between the lead actors?' For me, it was the novel part of the film. As a matter of fact, I wanted to bring children's illustration again into the climax instead of sidelining it and show how his and her professions run into each other and inspire each other."
The director acknowledged acclaimed British romantic comedy 'Notting Hill's influence on the film in the opening credits and terms it along with 'My Week with Marilyn' as his all-time favourite romantic films. "There was 'Notting Hill' hangover while writing 'Sammohanam', but then I wanted to make a film which is close to our culture," he admits, further noting that both in 'Notting Hill and 'My Week with Marilyn', there was no great drama. "But then there was tremendous amount of life and emotion which made them what they are."
Sudheer's performance in the film has been highly raved, with his brother-in-law Mahesh Babu too joining the bandwagon on Twitter and describing it as the actor's finest work till date. Indraganti feels that Sudheer has a lot of potential which the industry hasn't tapped yet. "What has he been offered? Zilch! Industry is at fault. Not actors. They are hungry and ready for challenging cinema. Sudheer might do routine stuff tomorrow because of lack of options but if given him a good option, this is what he is capable of," he points out, adding that he is considering taking a break next up before shifting attention to his next. "I want to run away for at least a month," he smiles.