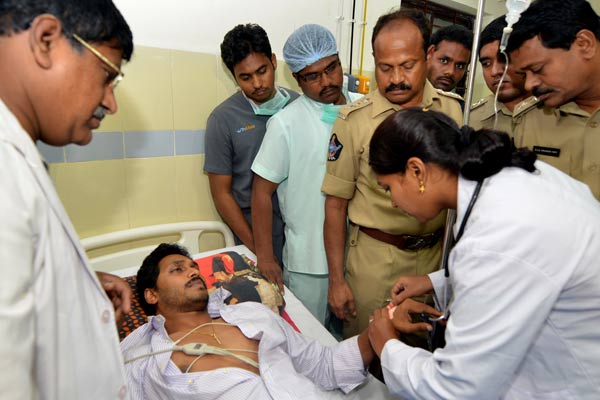 No dust had been kicked up in Andhra Pradesh during the six days Jaganmohan Reddy performed his act of indefinite fast in Guntur. Except for sporadic dharnas here and there, by and large, the state of Andhra Pradesh remained busy with existential engagements. Even in Jagan's Rayalaseema, the intellectuals, who have been fighting for the cause of Rayalaseema maintained stoic silence on Jagan's fast, even though it was taken up ostensibly to get special category status accorded on Andhra Pradesh. The opposition leader exerted himself mightily to drag the students and youth into the movement by his theory that no special status means no jobs and no future. Other sections did not care much of Jagan's fast, he never talked of the benefits the weavers, farmers etc would get if the investments pour into the state after special status tag is achieved. In fact Rayalaseema farmers are a worried lot because more investments means more danger of losing the lands under land acquisition. So, in the end Jagan's fast did not generate great tension in the state as KCR fast did in 2009 in Telangana.
Why?
[pullquote position="left"]Noted psychiatrist Elvin Semrad was known for his pithy comment on the ambition of a person. He once said," you can achieve whatever you want as long as you are willing to pay price."[/pullquote]You won't get anywhere by being mere ambitious. If you want to become the leader of the state, you have to pay the price, is the message from Semrad. In this case, Jagan is not ready to pay the price even though he wanted to build a Telangana-like movement by roping in the students and youth from various universities. In the six days of his fast none of the universities observed neither a bandh nor any campaign. None of the Rayalaseema student's wings raised their voice. None of the farmer's associations' leaders extended support. Because, everybody expected when the fast would come to an end. Everything ran as per expectations of man on the street.
In the case of Jagan's fast, means exactly determined the end. Going back to Semrad again, Jagan did not want to pay  price for becoming the champion of special status. For this he would have to rub the PM at wrong time. Jagan's plan appears to be not to annoy the PM by creating tension during his visit to Andhra Pradesh. So, he chose a date that did not clash with the date of arrival of PM for laying the foundation stone for Amaravati. Another thing, there was not much resistance from any quarters to the police, who were foiling his fast in the wee hours of Tuesday, as though they were all impatiently waiting for the enactment of last scene. According to Guntur General Hospital superintendent, Dr Raju Naidu, not only had Jagan cooperated with doctors, he even took some fluids orally. Outside, hell did not break loose in morning for lifting Jagan forcibly to the hospital   as was the case with KCR in 2009. It looked as if everybody heaved a sigh of relief. Everybody looked content with what had happened: Jagan did take up fast as he threatened from the floor of the Assembly; YSRCP leaders were happy they popularized the issue. The  Government was happy that Jagan's men had not created any Law and Order problem, and Jagan also conveyed a message that it was not his intention to irritate PM Modi by his fast.
Everything went off as if it was directed by a Telugu movie director. The story line is too predictable.