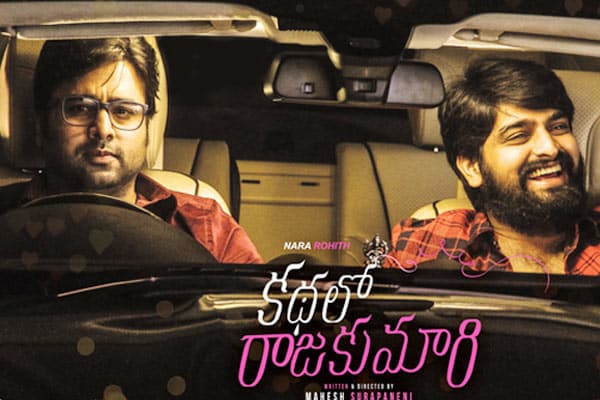 Kathalo Rajakumari Review, Kathalo Rajakumari Movie Review
Telugu360 Rating : 1/5
Young hero Nara Rohit is desperately trying for a much-needed hit that has been dodging him for a long time now. His career is battered with a string of badly executed films, but that doesn't stop him from experimenting with novel scripts. He is back with a love story Kathalo Rajakumari which also stars Naga Shaurya in a supporting role. Namitha Pramod plays female lead. Mahesh Surapaneni is the director.
Let's see if Nara Rohit and Naga Shaurya taste the success with Kathalo Rajakumari or not.
Story:
Arjun Chakravarthy is a numero uno villain in Telugu film industry. His craze is nothing short of any star hero. Arjun gets carried away by his on-screen image and soon becomes egoistic, head strong in real life too. Meanwhile, a major accident changes his outlook towards life and transitions him into a soft natured guy. This leads to failure in his forte of portraying villainous roles as he can no longer express sheer cruelty. Soon he starts losing films and upon well-wisher's request, he seeks advice from different people in industry.
One of the yesteryear villains who is also a good personality advisor, recommends Arjun to meet his worst enemy of all time and take revenge; so that he can regain the lost cruel nature.
Now, in process of finding his worst enemy Arjun zeroes in on his childhood friend Sita. Realizing that she stays in a village called Nandanavanam near Vizag, Arjun visits her home. Pretending to be good with her, he executes the revenge plan. Rest of the story deals with how Arjun tries to impress and/or hates her and how Sita tries to protect herself? what happens next is for the viewers to watch on silver screen.
Analysis:
This flick follows a 'film inside a film' concept. The proceedings start off promisingly showcasing Nara Rohith's ferocious action in different villain roles. Naga Shourya plays his real character. Once Rohith's wickedness is softened, the movie graph starts tumbling. The flashback showcasing Arjun and Sita's childhood is ineffective. The reason for Arjun hating Sita so badly is not at all convincing.
The childhood story lacks depth. Similarly, why and how Arjun or anyone's personality changes if they come into the proximity of their worst enemy, has not been explained to the common audience.
Technically too this a subpar film. The dubbing of the artists, primarily the hero's, is inconsistent – at times gets louder, occasionally goes low with non-audible words. Climax is another farce with film-fare awards' backdrop.
Amateur director Mahesh Surapaneni tried his best to make a film but ended up in delivering worse than a television serial quality. Many scenes like the episode of 'audio recording device' are classic examples of too much amateurishness. Story offers slightly different backdrop but created a failure. Cinematopraphy and music are also of poor quality except one Illaiyaraja bit.
Performances:
Nara Rohith is okay with his performance, but in this one-year old film he looked overweight in many instances. Heroine Namitha Pramod is not at all appealing as main lead. Nandita raj comes in a special appearance.
Verdict :
Kathalo Rajakumari is an utterly nonsensical film for any kind of audience. How a cinema villain, who is very arrogant off-screen as well, tries to change his attitude is the core point of this film. Nara Rohith who was known for choosing different kinds of stories, failed to pick one this time. An avoidable fare.
Telugu360 Rating : 1/5
Release Date : 15th Sep, 2017
Director : Mahesh Surapaneni
Music Director : Ilaiyaraaja
Choreography : Naresh Kancharana
Production Company: Sudhakar Impex
Starring : Nara Rohit, Naga Shourya