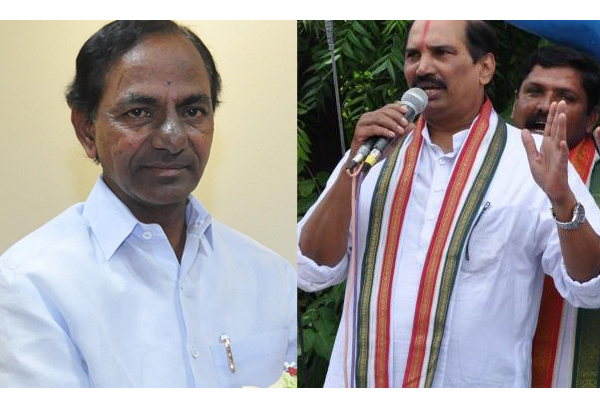 Telangana Chief minnister K Chandrasekhar Rao is determined to wrest the Narayankhed constituency from Congress. The constituency, a fortress of Congress, will soon have byelection as it fell vacant following the death of Congress veteran Patlolla Krishna Reddy. Reddy, a popular leader from Medak district, died of heart attack last month. The Congress wants a member from Reddy's family to represent it for the remaining period of Assembly. So, PCC president Uttam Kumar Reddy and Opposition leader K Jana Reddy urged all political parties in Assembly to ensure that the bypoll went off uncontested. There is a gentleman's agreement in erstwhile Andhra Pradesh that if an MLA dies, or killed in an accident, the seat should be left to the family nominee, most of the times, wife or daughter. Though Lok Satta opposed this, important parties, TDP and YSR Congress carried forward it. Sometimes, even Congress also honored it. In tune with this, Telangana Congress wants a unanimous election of Krishna Reddy's family member from Narayankhed. But, TRS seems to be opposed to this idea of leaving the seat from Medak, home district of pink panther and chief minister K Chandrasekhar Rao, to Congress.
Though the party has not announced its resolve to contest, irrigation minister T Harish Rao told media that TRS had in principle decided to contest the Narayankhed bypoll. That what Harish told was not an off the cuff remark is evident from the way the government releasing funds to Constituency. On a single day, yesterday, Rs 22 crore has been release to the constituency.
Fast Track Release of Funds

1. Yesterday, TRS government sanctioned 50-bed hospital to Narayankhed at the cost of Rs 12.20 crore. The hospital was sanctioned in just one day. The Commissioner, Telangana Vaidya Vidhana Parishad, Hyderabad has submitted proposal for establishment of 50 bedded Mother and Child Hospital at Narayankhed, Medak District with an estimated cost of Rs.12.20 Crores only on Wednesday morning . By afternoon the proposal had been approved and money was sanctioned. Out of Rs 12 crore Rs 9.20 crore for hospital construction and Rs. 1.80 crore for purchasing equipment. The remaining is to meet the recurring expenditure. Never have such decision been taken in the case works that need construction.
2. Similarly, another Rs 10 crore has been on Wednesday which also look poll related. The government has given administration sanction to Rs 10 crore for taking up developmental works in Narayakhed Assembly constituency, Medak district, under the scheme " special development fund for welfare and developmental activities. The money has been release at request of Zaheerabad MP. The request has been made just two days back on October 5, 2015.
Why TRS is particular about Narayankhed ?

Narayankhed constituency is important for TRS and chief minister KCR personally. Because it is one of the two constituencies, the TRS lost to Congress in 2014, the other being J Geetha Reddy's Zaheerabad (SC). Narayankhed is a fortress for Congress. In the past only twice, the party lost to rivals, in 1994 to TDP, and in 1962 to Swantra party. Naturally, as supremo of TRS KCR doesn't want any party to rear its head in his back yard. He wants to win all seats in 2019, to make the district his pocket borough. An opportunity knocked at his door now much in advance. Why should he leave it Congress, a party he hates in his heart of hearts. In order to make the bypoll a cakewalk for TRS candidate, he has fast tracked the development on constituency. doesn't it remind Modi's Bihar's package of Rs 2.25 lakh crore.
Now it's really a challenge for PCC president N Uttamkuar Reddy, who has been championing the cause of farmers in the district, which witnessed more suicides than any other district in Telangana.