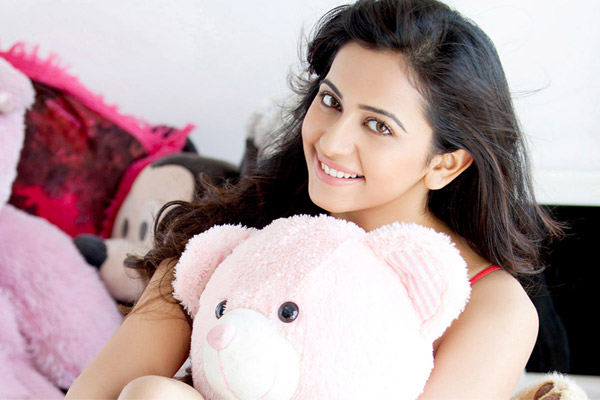 In Tollywood, among all the factors considered none works as superstitiously as lady luck for success in box office. For years, the hero and the maker team of any film typically hunt for that lucky charm who will rain fortune and luck and eventual box office success for the incumbent film. So, any heroine who has a golden run with a string of hits in recent past is sure to become a hot commodity – and if the heroine has glamor, she becomes that much hotter. Rakul Preet Singh has been one such sought-after heroine who hit a purple patch until recently. All that has changed with "Kick-2".
Things are just happening for this lissome and presentable heroine despite her growing command over language and a string of hits beginning with her debut film – "Venkatadri Express". Some of the most-celebrated heroines in recent times all had similar golden runs until interrupted by a flop or two and then, one fine day, they get branded overnight as "iron leg" heroines instead of "golden leg" heroines. Take the example of Samantha. After a series of hits beginning her debut film " Ye Maaya Chesaave", she turned the tables on many established heroines like Kajal Agarwal and Trisha to bag meaty roles. Her good run became bigger with "Brindaavanam" and other films with Superstar Mahesh but the box-office success became unpredictable after the second film with NTR Jr. bombed. After "Ramayya Vasthaavayya" came "Rabhasa" and then a string of films including dubbed versions of Suriyaa starrer "Sikindar" in which the magic of Samantha faltered. Even the winning combo of Nag Chaitanya -Samantha didn't help in "Autonagar Surya." When the film "Manam" became a blockbuster, however, the credit did go to Samantha but got divided over multiple stars including the evergreen ANR. Moral of the story: Tollywood is indeed sexist and easily fixes blame on the heroines when things go wrong or luck runs out. Only the rarest of the rare heroines in modern times have the pluck to re-work the magic and earn their spurs.
One of them is Shruti Hassan. Remember the early films in her career with Siddharth and NTR Jr. – "Oh My Friend" and "Ramayya Vastaavayya". For many films, she was branded as the unlucky heroine with an iron leg. For "Gabbar Singh", she didn't get the credit as it was Pawan Kalyan's movie. But then "Race Gurram" came and changed perceptions of her screen presence and presentatbility forever. She became the new darling of the Telugu film industry with a repertoire of skills from dancing to sensuality and feminine grace being the talking points. And she grew from strength to strength and is today the most-sought after heroine in Tollywood. She is the new "lucky mascot" of Tollywood as all her recent films are blockbusters and she is on a roll. Has she really been lucky? Maybe, but she worked her way up to get to this point. All the heroines who get swayed by the momentary titles of lucky mascot should learn from Shruti Hassan how to shake off stereotypes and play to their strengths.
Rakul Preet Singh is going through the same lean patch with recent flops like "Kick-2" and "Bruce Lee" that many heroines have gone through at some point in their careers after bouts of tremendous initial success – Ileana, Kajal, Tamannah and many others. The trouble with Tollywood is: everybody else who is part of a film – producer, director, hero, music composer, script writer and dialogue writer, cinematographer are judged on the basis of their ability and hard-work but only heroines get branded as lucky or unlucky. It is time the heroines take things in their stride and create their own sense of identity for the work they do in Telugu films. They are as professional as anybody else and to fall for the praise of being a lucky mascot is the easier way out but that won't be enough to prove your stamina in the industry. The real reason film flops is not because of a heroine but because of other strong reasons like lack of good story, screenplay, music and overall feel of the film. To blame it on heroines when things are not happening and to praise them to the skies when things are on a roll is sexist attitude and should be shunned by all.