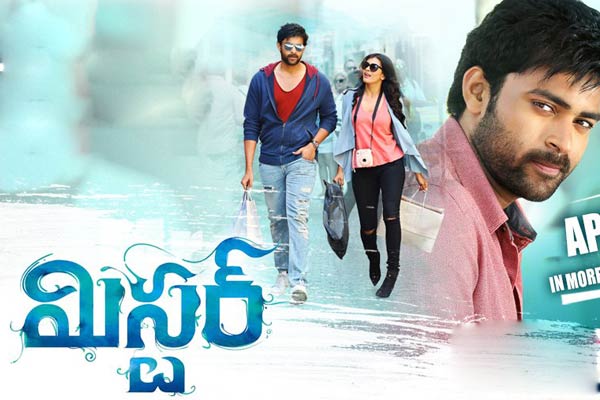 Mister review Mister Movie Review
Mister review Mister Movie Review
Filmmaker Sreenu Vaitla and Mega hero Varun Tej teamed up for an out and out entertainer titled Mister. The duo is in need of a decent hit to their credit, as their movie careers are going through rough patch with back to back debacles.
Amidst good buzz, Mister hit the movie screens today ( April 14th). Let's see if the film brought the much-awaited good days to both Varun Tej and Sreenu Vaitla.
Story:
Chai (Varun Tej) lives in Spain with his parents while his grandfather Pichaiah Naidu (Nassar) lives in a village near Andhra-Karnataka border. Meera (Hebah Patel) on her five day visit to Spain, stays with Chai's family and becomes his good friend. Chai assumes that she is in love with him, but to his surprise she reveals details about her boyfriend. Chai with a positive attitude takes ease of the situation and remains calm. Threatened by the brother of Meera, her boyfriend expresses his inability to marry her. Disappointed Meera seeks help from Chai, who upon arriving to India encounters with a village lady Chandramukhi (Lavanya Tripathi).
Both the lead ladies are in trouble from their respective relatives' gangs. The rest of the story revolves around how Chai protects them. Another interesting aspect of the movie is the lady with whom Chai gets married.
Performances:
Varun Tej is super cool in this film, his styling need special mention. However, he needs to be more flexible in fights and dance movements. Hebah patel as Meera is fine and carried glamour quotient well in the first half. Lavanya Tripathi as village belle is just adequate.
Comedians Srinivasa Reddy, Prudhvi and Raghu Babu performed well. There are many villains who are impressive.
Analysis:
After a long gap director Srinu Vytla has executed scenes with panache throughout the first half. Scenes that happen in Spain are entertaining. The movie has his trade mark satires, punches and also a spoof on Nagarjuna's Oopiri film. Vytla did not hesitate to show case self-parody.
However, as the interval approaches, there are too many villains involved. Adding to the woes there were many chases with hardly any impact. Out of three songs in the first half – Kadile Lokam Motham and Edho Edho Bagunde are good on screen. Especially Edo Edo Bagundhe song is superb on screen. Overall, first half impresses the audience.
As second half starts, Chandramukhi's (Lavanya Tripathi) story starts and the movie graph goes down because her family is introduced as the successors of Sri Krishna Devaraya. The entire sequence in itself was weird. Songs in second half are ordinary. Sayyorii Sayyori is a fast beat number and Nee Meeda Manasayera is an item song which has some good dance moves by Madhu Sneha. Sankranti song is just average. Overall, second half is a typical commercial potboiler with no spark.
The major flaws in the movie is due to the presence of too many villain characters and sub plots. These acted against the movie which otherwise would have turned out to be a good movie. Srinu Vytla's obsession with too many villains marred his previous movies, and yet he did not seem to learn.
Mickey J Meyer tunes work well with masses but background score is dull in chasing sequences. K.V.Guhan's photography is very good, adding more grandeur to the rich production values. Editing by M.R .Varma is super crisp except for the pre–interval scenes.
Verdict:
Mister movie has an entertaining first half and a mediocre second half – but overall impression would be an average. Mister has all commercial ingredients stuffed, along with rich production values but farcical second half played the spoilsport for this film. Summer holidays and lack of competition may fetch some revenue at the box-office in India. Regular movie goers may watch this film at leisure.
Telugu360 Rating 2.75/5
Release Date : 14th, April 2017
Director : Srinu Vaitla
Music Director : Mickey J. Mayer
Produced by : Nallamalupu Bujji, Tagore Madhu
Cinematography : K. V. Guhan
Starring : Varun Tej, Lavanya Tripathi, Hebah Patel