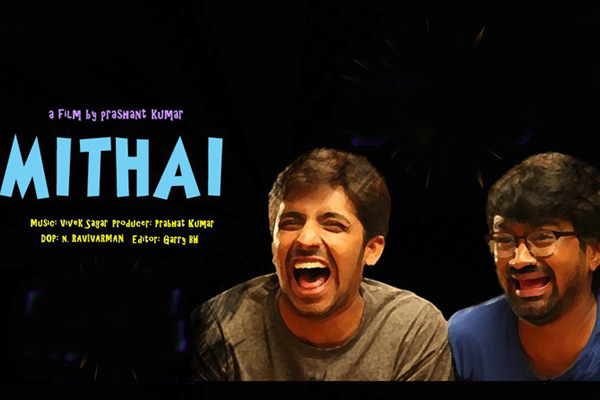 Mithai Movie Review
Telugu360 Rating 1/5
Happening comedy actors Rahul Ramakrishna and Priyadarsh are testing their luck as heroes with a dark comedy titled as Mithai. Directed by Prasanth Kumar, the film also features a bunch of newcomers in key roles.
Mithai grabbed the attention of audience ever since the wacky and fun filled trailers have been released by the makers. The madcap thriller narrates the story of two eccentric friends who struggle in their professional life. VivekSagar composed the tunes.
Let's find out what is in store for audience with this quirky drama.
Story: Sai ( Rahul ) , Jaani ( Darshi ) are childhood friends who reside in Hyderabad. This ' Mithai' story span is four days in which Sai and Jaani are in search for a necklace thief. In a theft at Sai's flat, robbers steal a necklace which he bought for his fiancée. As the marriage is scheduled in four days, Sai and Jaani determine to find the culprit. Rest of the story is the situations they face in pursuit of the thief
Analysis: Youth appealing trailers raised curiosity on Mithai. Audience do expect some dark comedy or any type of comedy at least in few scenes. But Mithai miserably fails in generating required comedy. A wafer thin story line has been developed into full length film with some absurd scenes. Inspired by some bolly flicks, director seems to be attempted a hatke comedy which is failed. Most of the film has been shot in bars, the lead duo always shown as drunkards. Characterization wise that is fine, but it becomes monotonous to see back to back bar scenes.
PriyaDarshi , Rahul Ramakrishna acted with ease. VivekSagar's music is forgettable one in this film
Positives:
Negatives:
Comedy that failed
Poor Casting
Verdict:
'Mithai' is a B grade film which tries to package as a trendy comedy film. With no sequence is able to make audience laugh, this film is avoidable one.
Telugu360 Rating 1/5