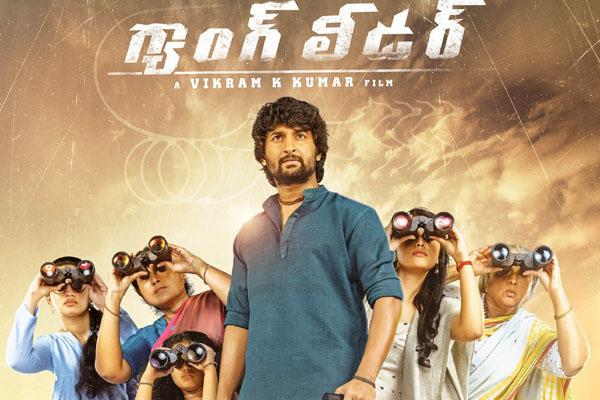 Gang Leader Movie Review
Gang Leader Review
Telugu360 Rating 2.75/5
Story:
Gang Leader has a unique story. A five member team participate in a Bank robbery, was killed after the task. The culprit and 300 crore robbery money are untraceable for 14 months. Five ladies of varying ages form a team to take revenge on the culprit(S). In that process they seek help of story writer Pencil Parthasaradhi( Nani) . Rest of the story is how all six together find the culprit and take on him.
Analysis:
'Gang Leader 'takes off in very interesting manner, the robbery scene has been presented stylishly. Quickly diving into the story, five ladies gang lead by Lakshmi has been formed to take revenge. Nani and ladies gang begin combined mission, those scenes have not much to offer in first half. When Deva( Karthikeya : RX100 Hero) is entered into the story as a professional racer, things move forward at better pace. Pencil Parthasarathy suspects racer Deva is the one who did the robbery.
In second half, the real cat and mouse game between the two sides begin and most of it is engaging. ' HoynaHoyna ' song is very good on screen. Story, narration has a clever mix of multiple genres. At times Gang Leader appears as a crime investigating thriller, sometimes as a comic one, and emotional few times.
The twists in the plot aren't forcible, they're subtly blended. Director Vikram who has command over sensible scenes is able to deliver only few of them. However, he struggled to narrate the movie in fast paced. Though everything appear to be in place, audience will feel something is amiss in the film Production values by Mythri movies are good. Anirudh's music has two good songs, superd background score.
Performances:
Natural star Nani is effort-less as Pencil Parthasarathy, lives up to the reputation. His comedy timing, ease in acting are good watch. Senior actress Lakshmi, Saranya and heroine Priyanka all performed good. Director Sukumar Cameo in highlight. Karthikeya as villain is good
Positives :
A different Story line
Casting and performances
Twists in the plot
Some fun moments
Negatives :
Dull Narration at times
First half just average
Songs are not so appealing
Emotions didn't work as they are supposed to be
Verdict :
Gang Leader ' film has an interesting and creative story plot , but the narration is not as exciting as the storyline. First half of the film is an average one which sets up the foundation, second half is better with engaging narration mostly. A decent watch for families.
Telugu360 Rating 2.75/5