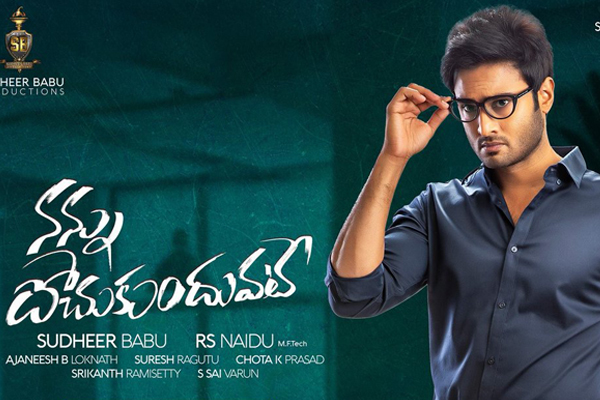 Nannu Dochukunduvate Review Rating
Telugu360 Rating 2.75/5
Actor Sudheer Babu is making debut as producer with this romantic entertainer 'Nannu Dochukunduvate' . Debutant RS Naidu is the director and newbie 'Nabha Natesh' is the film's leading lady. Let's find out if Nannu Dochukunduvate turns out to be a successful venture for Sudheer at box office. Here is our review:
Story:
Karthik( Sudheer Babu) is an IT manager who is always tough with his subordinates. To avoid a marriage proposal from his relatives, Karthik hires Meghana to act as his girlfriend in front of his father ( Nassar) . Meghana impresses both Karthik and his father with her bubbly nature and nice heart. Karthik who is very career oriented professional, until he meets the short film actress Meghana. Realizing his life ambition (Working in US) is under jeopardy, he distances himself from Meghana. Rest of the story is about how they unite , what happens to the father, son relation etc .
Analysis:
' Nannu Dochukunduvate ' has a simple , predictable story line. First half has subtle humour, sensible scenes and contemporary narration. Hero's IT office setup , Heroine's short film acting profession etc. present day backdrops have been dealt well in first half. Director has the knack of subtle humour scenes without being over the top. While poor songs slow down the flow, overall first half is average, satisfactory.
Second half has more emotional content which has been dragged at times. Second half is bit dry, slow. Songs, which are visually okay, could have been better tunes wise. The drama throughout the film is limited between the lead pair and thus becomes redundant .Hero Sudeer Babu may receive appreciation, as a producer, for attempting a good film. However commercial success is doubtful. Debutante director R S Naidu has strength in executing sentiment scenes, sensible scenes. Even though sentiment scenes are there, director tries to keep them less melodramatic
Performances:
Sudheer Babu is a good fit in Karthik role, best scene is from pre-climax where he competes with Nassar in a lengthy emotional scene. New heroine Nabha is a good find, she suited Meghana role. Her bubbly characterization, new backdrop as a short film actress bring additional appeal to her role. Nassar excelled as a widowed father of Karthik , actress Tulasi is okay as heroine's mother. Veteran actor prudhvi ,Youtube telugu stars viva harsha , sudhakar and shanmukh Jaswanth appear in short roles.
Positives:
First half is decent
Contemporary narration
Lead pair
Some sensible scenes
Negatives:
Predictable plot
Song tunes are not catchy
Slower second half
Abrupt climax
Verdict :Nannu Dochukunduvate is an average film at best. This rom-com has a decent first half, slowly narrated second half. Hero Sudheer Babu, Director RS Naidu will be appreciated for a good attempt. The commercial success depends on how youth embrace it.
Telugu360 Rating 2.75/5
Release Date : 21st Sep, 2018
Director : R.S. Naidu
Music Director : B. Ajaneesh Loknath
Choreography : Suresh Ragutu
Producer : Sudheer Babu
Starring : Sudheer Babu , Nabha Natesh