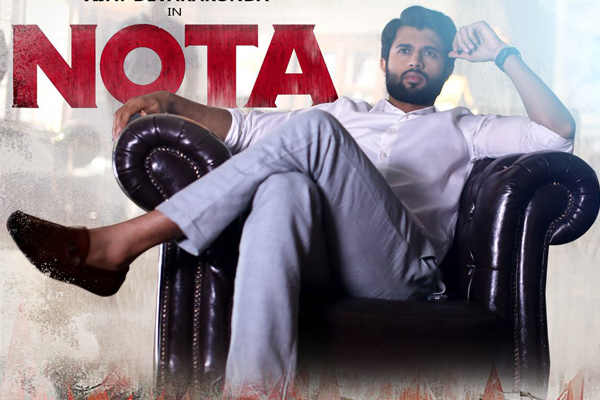 NOTA Review Rating VIJAY Deverakonda
Telugu360 Rating : 2.25/5
NOTA has grabbed the attention of audience for its political setup with Vijay Deverakonda essaying a serious role who takes on the contemporary politics in his own style. Trade circles are keenly waiting to see if Vijay manages to pull crowds without any youthful and entertaining elements. Directed by Anand Shankar, the film has Mehreen Pirzada as the female lead. Let's find out how it fares.
Story :
Vasudev ( Nasser ) , the chief minister of Telangana state , is a hero turned politician. He makes son Mr. Varun ( Vijay Deverakonda) as proxy CM on the advice of a Swami Ji. After Vasudev goes to jail on corruption charges, the responsibility of running the state remains with Varun who is a novice in politics. Rest of the story is all about the hurdles Varun encounters as CM
Performances:
Accepting full pledged politician role is a bold step by Vijay Deverakonda. Had he chosen a gripping subject, it would have helped him to reach wider audience out of his forte youth segment. We cannot call this role as miscasting, but Vijay's image and CM role didn't add up positively. Heroine (?) Mehreen role is equivalent to a guest appearance in length, hence cannot comment on her performance in guest role. Senior actors Nasser , Satyaraj got lengthy and cakewalk roles. Most of the drama in the film involves these two characters, performed well. In second half , Nasser makeup is very bad. M S Bhaskar, priyadarshi played key roles and are okay.
Analysis:
Attempting a serious political drama with a young and urbane image hero needs substantial depth in story. Of course every political story might not have depth, a minimum engaging story is needed to keep audience interest for 2.5 hours. NOTA lacks such story , also suffers from poorly written scenes.In general , Political dramas have ample scope to play to the galleries by discussing day to day problems of the common man and proposing some superficial cinematic solutions. Ironically NOTA fails even in that aspect. A corrupt CM who is also benami for a swami ji earns thousands of crores. Then swamiji tries to take over all the wealth after Vasudev (Nasser) goes to jail. Swami Ji even attempts to take the life of CM, on the other hand new CM Varun tries to change the functionary of government officials and party workers. First half is somewhat bearable but the second half of the film turns out to be a farce and tests patience. There are no dialogues to be remembered, which is a setback for a political genre film. The swami ji thread is half baked, the title NOTA has not even remote justification. Political drama interlaced with family conspiracies , hospital scenes and resort camp scenes etc. remind us, relatable to Tamilnadu politics.
Except introduction song, there are no commercial songs which of course we cannot expect from this genre. Same with entertainment, there is absolutely no relief in terms of comedy. The flashback of Nasser, Satyaraj takes more length. There is no justification to the title NOTA , not even an attempt to justify the title. Overall, no single scene stands out in the film.
The production values by Studio Green are good. Director Anand Shankar yet again fails with simple subject.
Positives:
Vijay Deverakonda
Some relatable political drama for Tamil Nadu State
Negatives:
Weak Story, Insipid narration
Lack of any Entertainment
Very bland second half
Verdict:
NOTA is a forgettable political drama with no noteworthy moments at any phase. It offers some relatable elements for Tamil audience, but for Telugu states no such saving grace. With no entertainment nor other commercial elements, overall this film disappoints. A bad judgement by Vijay Deverakonda because of whom this film opened well at Box-office across South India and USA
Telugu360 Rating : 2.25/5
Release Date : 05th Oct, 2018
Director : Anand Shankar
Music Director : Shakthikanth Karthick
Choreography : Santhana Krishnan Ravichandran
Production company : Studio Green
Starring : Vijay Devarakonda, Mehreen Pirzada