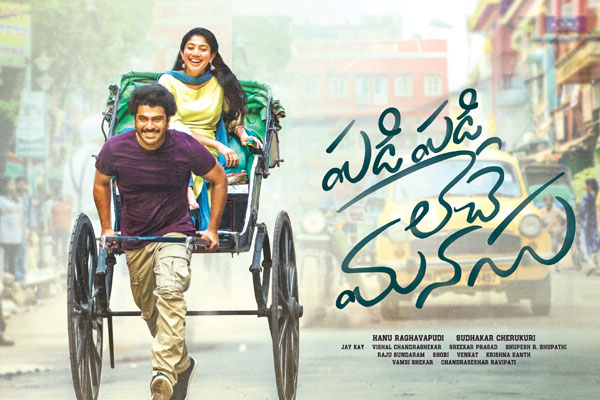 Padi Padi Leche Manasu review
Telugu360 Rating 2.5/5
Padi Padi Leche Manasu is a romantic entertainer featuring Sharwanand and Sai Pallavi in the lead roles. Directed by sensible filmmaker Hanu Raghavapudi, the film is predominantly shot in Kolkata and Nepal.
After making strong waves with impressive teasers and trailers, Padi Padi Leche Manasu is releasing today amid good expectations. Let's find out if Sharwanand – Sai Pallavi pair can create magic on screen
Story:
Set in Kolkata, Surya ( Sharwa ) tries to impress a medico Vaishali ( Sai Pallavi ) whom he likes a lot. Surya dupes Vaishali by claiming her unknown boyfriend is threatening him not to meet her. After a series of sequences, Vaishali develops curiosity towards the unknown person Surya has been talking about. Finally she discovers the truth, but accepts Surya's love. Story takes an interesting turn when they visit Nepal.
Rest of the story is about the conflict point, how it is resolved.
Performances:
Sharwand has shown top class performance as Surya. There are numerous scenes in which he showcases humor, love and pathos brilliantly. Sai Pallavi equally matches Sharwa with her talent. Especially in memory loss scenes, hiding her love towards Surya she is good. MuraliSharma ,Sampath Raj, Priya Raman , Sunil , Priyadarshi played other roles.
Analysis:
Padi padi leche manasu starts off in a pleasant manner. It goes on sensibly with breezy songs until interval. Those scenes in which Surya tries to impress Vaishali came out well as writer has shown some freshness. Kolkata backdrop adds a different dimension to the novel script. Troubles starts after Vaishali accepts his love, and when they meet in Nepal. A silly conflict point, followed by an earth quake take down the good impression audience have on the film till then.
Second half starts on dull note, continues till the end in pathos. Surya restarting his love game on her, after she impacted with Amnesia etc. threads are unconvincing Hanu Raghavapudi who is good in shot making ensured this film is vibrant throughout the first half. He extracted pure melodies from the music director Vishal Chandrasekhar, also picturized them well. However, the director has failed in writing a strong conflict point and paid the price
Positives:
Pleasant songs
Lead pair performance, chemistry
First half
Negatives:
Boring second half
Poorest conflict point
Verdict:
Padi Padi Leche Manasu is a good attempt which has gone wrong due to the poor conflict point and boring second half. This film is a musical hit, lead actors' performances are good. Overall, a non-satisfactory film
Telugu360 Rating 2.5/5
Release Date : 21 Dec 2018
Director : Hanu Raghavapudi
Music director: Vishal Chandrasekhar
Starring : Sharwanand, Sai Pallavi