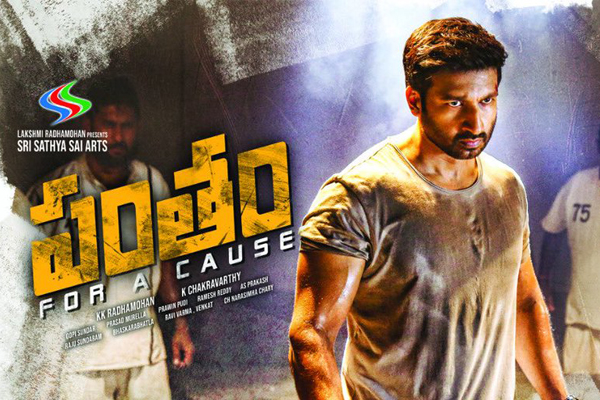 Pantham Movie Review
Telugu360 Rating : 2.5/5
Macho star Gopichand's 'Pantham' with tagline 'For a Cause' is billed as a strong social drama laced with commercial elements. Mehreen Pirzada is the leading lady and K. Chakravarthy has directed this landmark of Gopichand. Let us see how this film has been shaped up:
Story:
Gopichand is a guy who smartly executes black money robbery from politicians, ministers. The main target of his robberies is Nayak Bhai alias Jayendra who is a home minister. Nayak Bhai hires investigators to find the culprit, surprise fact about Gopichand's background reveals.
Rest of the story is revealing the cause Gopichad turned thief and his showdown with the powerful men in politics
Performances:
Gopichand in his 25h film has been peformed okay. In fight sequences he worked hard. Mehreen has limited screentime as Gopichand's girl friend. Srinivas Reddy, JayaPrakash, Prudhvi Raj 's comedy performance evokes some laughter. Sampath Raj villainy is not so great.
Analysis:
'Pantham 'film takes off as gopichand showcasing innovative robbery ideas. Here the word 'innovative' is the director's perspective but audience won't feel any creative stuff out there. Backdrop of this story demands some cool robbery ideas. Instead, the team filled up with all outdated ideas for robberies. Prudhviraj as house owner delivers some comedy. With no highlights, first half ends on rather dull note. Post-interval, the film picks up speed screenplay wise. As flashback opens, some twists in the plot appeal to the audience. But, soon director jumps into forced sentiment scenes until the climax. Climax has been shot in a courtroom with prolonged conversations. Some of the dialogues from climax are really good.
Music director Gopi Sundar songs did not suit masses. Especially for the 'Desam antE matti kodoy 'song, audience were heard laughing at it. Mr. Prasad Murella cinematography is nice. Producer KK Radha mohan has spent lavish, production values are good
Positives:
Racy Screenplay
Some social message
Decent comedy at parts
Dialogues , Especially Climax Court Scene
Negatives:
Cliched plot
Weak songs
Outdated scenes
Verdict:
'Pantham' movie is a routine mass flick with infused social message. This robinhood template story has racy screenplay, some comedy as it's strengths. However, many scenes are cliched and songs are another weak point. Being a 25th film for hero Gopichand, it could have been better. Overall, it may work as an average in B, C centers and won't get any brownie points with others
Telugu360 Rating : 2.5/5
Release Date : 05th July, 2018
Director : K Chakravarthy
Music Director : Gopi Sundar
Choreography : Mukesh
Producer : K. K. Radhamohan
Starring : Gopichand, Mehreen