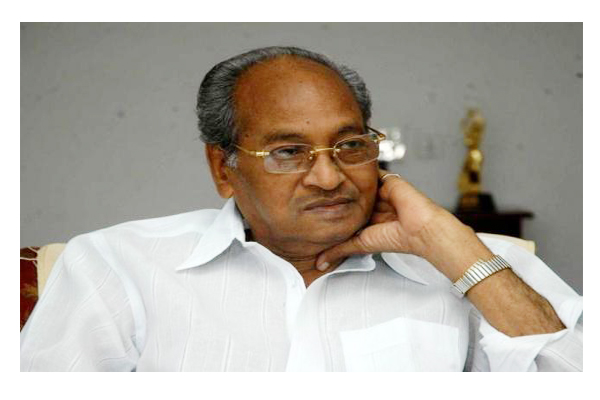 Part 3:
After the stupendous success and creative high of the last film, Rao called in Vamshee, one of his trusted Associate Directors and a youth who grew up on the sets of Poornodaya Creations to make a film for him – "Sitara" (Star).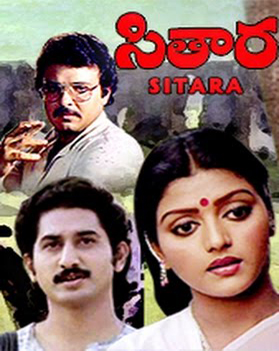 Played by Bhanupriya and Suman, the film is a story of a girl who breaks shackles of traditions to become a starlet. Again, it hit the bull's eye and ran 100 days at many centres besides raining awards at the national level besides making it to Indian Panorama. (Cost of production Rs.13.5 lacs).[pullquote position="left"] The film used many technical innovations like Round Trolley for the first time in South Indian films and also made Ilaiyaraja's music famous with the rustic touches of director Vamshee – a collaboration that was to see many more golden hits for music-lovers.[/pullquote] For all his love of Telugu language, Vamshee refused to remake the film in either Hindi (approached by Sridevi) or in Tamil (approached by Ilaiyaraja himself).
"SwathiMuthyam" was the next film that brought back K Viswanath and Rao together,  with Kamal Hassan. The story of a simpleton considered a mental shrek by others  went on to win hearts and live life at his terms – this simple line was etched into a beautiful modern-age love story between Radhika and Kamal Hassan. Made on a budget of Rs.45 lacs and shot over 60 days, the film created huge impact on the masses and ran 100 days at over 25 centres. Again, the producer had the guts to challenge the wisdom of director Viswanath who wanted to change the climax of the film earlier.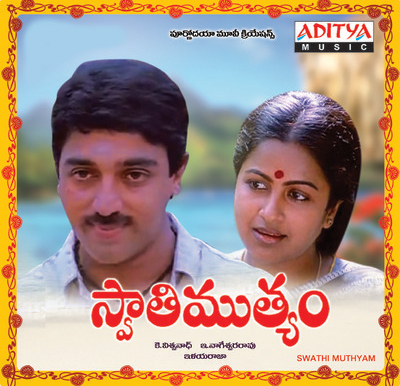 Viswanath wanted to make the title character Sivayya come of age who becomes a normal person towards the end. But the producer insisted that the beauty of the innocent character will be lost if the climax is altered. So he roped in Ananth – one of the best writers of K Balachander-  to rewrite the climax to suit his taste and the film tasted big success. Kamal Hassan in his interviews mentions that despite charging Rs.9 lacs (almost one-third of the budget of the film), the film brought him enormous fame and respect in the industry. It remains one of the best films according to Chian Vikram. It also became the official Oscar-entry for the Best Foreign Language film in 1986 from India – a proud achievement for both producer and director.
After seven movies which hit a purple patch for the producer, Rao went on to produce  another fine film with Chiranjeevi –  "Swayamkrushi" (Self-Made).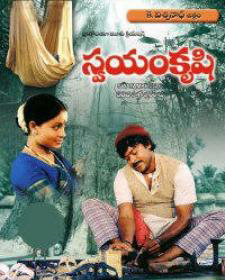 This was in 1987 when Chiranjeevi was already a big star in the decade that he started producing films since. K Viswanath directed this film starring Vijayashanti and Chiranjeevi about the story of a self-made cobbler who grows to become a tycoon only to be misunderstood by his own son. It had a good story and a message about dignity of labor.
Made on a budget of Rs.90 lacs, the film was shot in 60 days and had Ramesh Naidu score music which became a big hit. The film became a decent hit and also brought in the best actor award for Chiru – something Rao predicted even during the making of the film itself.
After achieving eight blockbuster hits, Rao took on a gamble to launch his  son EdidaSriram with Vamsee as director in "SwaraKalpana" ("Music Composing"). Made on a budget of Rs 35 lacs and shot in 50 days, the film's music was composed by Ilaiyaraja's brother Gangai Amaran as the Maestro was busy. The story set in a village backdrop loosely inspired from "Missamma" had EdidaSriram and Sita in lead roles. This, however, turned out to be much more serious than what Rao assumed Vamshee will treat in creating the characterization for his son Sriram. Because he didn't pay attention to the development of the story and hardly stayed on the sets, the film suffered from mediocrity and bombed at the box-office creating the first major loss for Rao spoiling the chances forever for his son Sriram. Though a song or two were a hit, the film failed to click because many movies came whose treatment was similar or better than this film. One of them was Bapu's "PelliPustakam".
In 1992, Rao produced his last film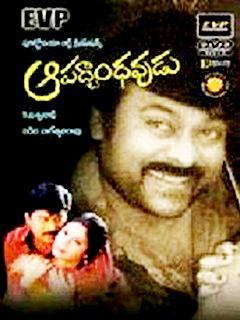 "Apathbandhavudu" (God-Savior) with Chiranjeevi and MeenakshiSeshadri , directed by K Viswanath, for the last time together. The film tried to cash in on the ruling magic of Chiru but the budget flared up to Rs.4 crores. The story is about a savior Sivayya who is in love with a village girl and sacrifices a lot to rescue her from a bout of madness she suffers after a rape attempt by her relative. The film had sky high expectations after the mega success of "GharanaMogudu" and hence failed to deliver at the box office in the same measure. The budgetary constraints had forced Rao to give up films after movie number ten creating a wide gap since then. The film had great music by MM Keeravani and once again brought  Nandi Award to Chiranjeevi but the after-taste of box-office reception made Nageswar Rao develop risk-averseness towards any more producing.
On the whole, if one looks at the filmography of Edida Nageswar Rao, he has achieved an impact on Indian Cinema in general and Telugu Cinema in particular which many producers can only dream of. With fewer films and tighter control on budgeting, he has earned respect reserved only for the best in the field. By being an important crusader for good causes of meaningful and aesthetic cinema, and by collaborating with fewer associates he believed in backing to the bone, Rao created a legacy that will remain unsurpassed for generations to come. Rao never ventured into languages even when remakes were an easy option, he didn't go in search of technicians who wouldn't sync well with his core directors, he never sought the easy route of mass-appeal and formula films that dominated the mind-share of three-fourths of his generation of film-producers. He shattered the myth of the long genius by actively collaborating like soul-mates with directors like K Viswanathand Vamshi and created epics of lasting value and thereuapatic messages.  His services  were also much sought-after – as jury members in the Indian Panorama, National Awards Comittee and so on. He used the medium of cinema to enrich it not to milk it for making money – which is what the convention is for a producer. Even though Rao is legendary with an output that raises eyebrows for the sheer range and artistic excellence, he remains vastly unsung in an age where producers no longer command respect. It is because of this reason, we must respect EdidaNageswar Rao – because he chose the road less travelled and look where it has taken him. Eternal Fame and Name. May his tribe increase.