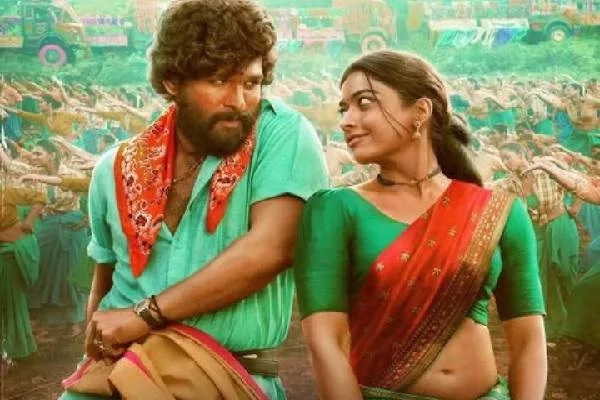 Pushpa Movie review
Pushpa Movie review
Telugu360 Rating  : 2.75/5
Story: 
Pushparaju is a daily wage worker with the ambition and attitude to win big. Set in the forest backdrop of the Seshachalam forest, the film follows Pushpa's rise from a coolie to that of a red sandalwood syndicate leader.
Analysis :
The film opens with a voice over describing the demand for red sandalwood in the international market, via graphics in an interesting reverse flow from the consumer in Japan to the Seshachalam forest from where it is smuggled via Chennai & China. Pushpa's introduction as a coolie in the gang is rustic and seemingly authentic. Pushpa's character is well established through the first half as a realistically greedy youth who aims to reach the next level of success with just his guts and foresight. The rustic Chittor Forest village set up, people and dialect are done effectively. For most part director Sukumar maintained the subtle narration without over-the-top heroism. However, it borders the line of a flat narrative. The lack of a proper villain does not help the movie either. Ajay Ghosh, Suneel and Rao Ramesh played villains and honestly there isn't much conflict here to generate rugged action scenes of any sort. Heroine Raskmika's characterization as a routine village girl in a deglamorized role has nothing to talk about.
Given the smuggling background and hype built around the extravagant budget, any audience expecting action episode will be surely disappointed. The red sandalwood syndicate has Suneel as its lead – a poor casting choice, the Reddy brothers – nothing to offer in terms of villainy. Samantha's item song is a commercial add on.
Songs Dakko Dakko Meka, Chupe Bangaramaayene , Oo Antava songs are in first half, superhit audio Saamy song is into second half.
Second half shows Pushpa try to win his lady love, his humiliation around the circumstances of his birth, minister's attempt to deescalate the rift within the smuggling syndicate. As expected, Pushpa becomes the smuggling syndicate kingpin. When all seems well for Pushpa both professionally and romantically, Sukumar introduces Shekawat (Fahaad Faazil) as a new police office and gives the audience 30 minutes of filler scenes ending with Pushpa preaching to Shekawat.
Sukumar's mark direction is a clear miss, with exception to adhering to the rustic backdrop. Cinematography is good enough, but the major disappointment is DSP's background score and the very bad sound design. Perhaps audiography team did not have time to complete the rerecording work. Most of the film appears to have leveraged Spot Dubbing technique. Visual effects are not up to the mark either.
Allu Arjun as Pushpa has put in his best efforts and acted superb. His body language, performance, and diction (complete Chittor dialect) are excellent. He will be appreciated by one and all and is the only saving grace in the movie. His friend keshava role is good as well. Rest of the cast has nothing much to get appreciation.
Positives :
• Allu Arjun's fantastic performance
• Two Songs ( Saamy , Oo Antava )
• Authentic rustic, rural setup
Negatives :
• Slow narration in the first half
• Horrible technical values mainly audiography , Visual Effects
• Poor casting of villains and lack of strong conflict points
• Missing Sukumar's magic
• Unnecessary dragging scenes of 2nd half including the climax
Verdict :
'Pushpa' doesn't live up to the expectations. The story of a Sandalwood smuggler who grows from a 'Coolie' to 'Syndicate Boss' has been narrated in a flat manner. Allu Arjun characterization, dialogues stand out. Second half is a BIG letdown and audience may keep wondering what the purpose of the last 30 minutes and the climax episode was. As you walk out, you can't help but think if part 2 will ever be made.
Telugu360 Rating  : 2.75/5
Summary
Reviewer
Review Date
Reviewed Item
Author Rating