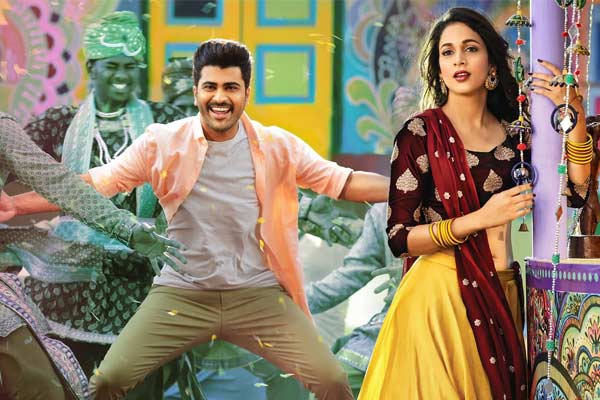 Radha Movie Review
Radha Movie Review
Telugu360 Rating 2.5/5
Actor Sharwanand is definitely going places ever since he started working with top production houses in Tollywood. Having bagged good hits like Express Raja and Shatamanam Bhavathi, Sharwanand turned out to be a bankable asset for producers. He is now coming up with an out and out entertainer 'Radha' in which he is playing the role of a trigger-happy cop Amidst good expectations, Radha hit the screens today. Let's see if Sharwanand can continue his success streak with this film.
Story:
Little boy Radha Krishna(Sharwanand) grows up listening to Bhagavad Gita and consequently develops fascination towards Lord Krishna. The kid is rescued by a police in an incident. The boy assumes that god rescued him in the form of police, so he aims to become a police officer. His obsession grows with his age and with his strong determination, he finally gets appointed as a trainee Sub-Inspector of police.
Upon completion of training, Radha Krishna gets posting in a zero-crime area in Warangal district. In that peaceful rural area, the cop lacks job satisfaction. In the meantime, he falls for a beauty Radha (Lavanya Tripathi).
Later Radha Krishna gets transferred to a crime ridden zone in Hyderabad – Dhoolpet. Meanwhile, two warring factions of the state ruling party fight with each other for CM candidature.
How Radha Krishna gets into the crossfire of the groups? How does he fix them? What happens to his Warangal love story? All these questions are answered on big screen in the flick RADHA
Performances:
Sharwanand's effortless comedy and timing is highlight for the film. He performed with ease the role of young and energetic police officer (SI). The sarcastic dramatization aspect in his characterization is good. Lavanya Tripathi is good fit for the role and meets the demands of the role. Another heroine Aksha Pardasany has brief presence as Rukmini but very limited role, she is adequate. Shakalaka Shankar in first half, Saptagiri in second half played their roles well and provided the much-needed comedy relief.
Main villain Ravi Kishan got significant length while his opponent Ashish Vidyardhi got limited role. Ravi Kishan overacted in few scenes. Tanikella Bharani, Kota Srinivasa Rao and Ali are fine.
Analysis:
The film which starts with a variety theme, initially appears interesting and creates a hope to have some fun. But as the story unfolds, it falls into the routine commercial Telugu cinema structure. Especially towards the middle of the second half, the graph dips. Debutante Chandramohan who handled Story, dialogues, screenplay and direction departments showed very little freshness. Most of the film is typical formulaic.
The love track between Radha Krishna and Radha, set in a rural backdrop, is a decent time pass. The hero's ideological itch to clean up the society has been decently established. Hero is his SI role and his constables' team as comedy sidekicks made the first half partially enjoyable.
In second half, movie begins to sink into the formula. Though the intention is to create comedy, a politician of CM caliber and his rival are portrayed foolish. With poor pre-climax scenes and routine climax – the farcical RADHA comes to an end. After the movie comes to an end, no song will be retained in the memory. Only two songs are watchable on screen, rest are not at all appealing.
Verdict:
Radha movie has a predictable and mundane story line. Sharwanand's effortless comedy timing is highlight of the film, however, the routine story and flat narration are counterproductive. Overall, if you are a fan of Sharwanand, watch it once for it's passable comedy tone. At Box-office, this film might do somewhat decent business in India due to summer season and stuffed commercial elements.
Telugu360 Rating 2.5/5
Release Date : 12th, May 2017
Director : Chandra Mohan
Music Director : Radhan
Produced by : Bhogavalli Bapineedu
Cinematography : Karthik Ghattamneni
Starring : Sharwanand, Lavanya Tripathi