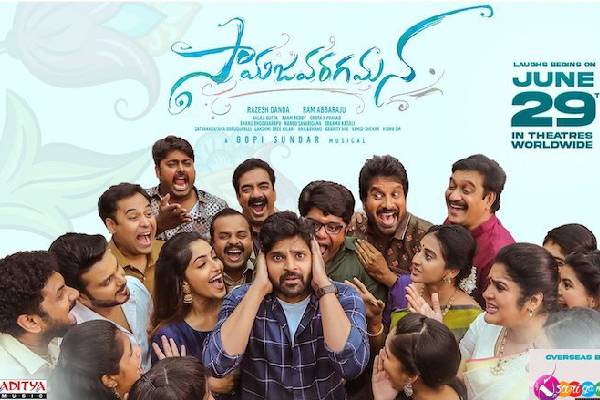 Samajavaragamana Movie Review
Samajavaragamana Movie Review
Telugu360 Rating: 2.75/5
Story:
Middle-class Balu (Sree Vishnu) works at a multiplex ticket sales counter. Balu's ambition is to make his father (Naresh) pass a degree because only if his father gets the degree the grandfather's property will get into their hands. After failing the exams for two decades, finally, Dad asks a youngster Sarayu (Reba Monica John) to help him in clearing the exams. Sarayu joins Balu's home as a paying guest. Sarayu loves Balu but Balu refuses to. The rest of the movie is about whether Balu finally accepted her or not. After accepting her what are the new challenges they encounter?
Analysis:
The core strength of the film ' Samajavaragamana ' is the writing. Right from the word go audience does notice the freshness in the story, Quality of the dialogue writing. Director Ram Abbaraju delivers an engaging and relatable narrative. Dialogue writer Nandu has come up with contemporary youth lingo as well as homely family-oriented dialogues. The first half of the film is one of the best entertainers in recent times. Sree Vishnu and Naresh breathe life into their characters. Reba Monica performs her role effectively. This debut heroine takes time to sync, effective as the movie progresses. Srikanth Iyengar, and Nellore Sudhakar got meaty roles and they did well. In the second half, Vennela Kishore makes an entry as ' Kula Sekhar ' and delivers satires on those with caste feelings. On the songs front, Gopi Sundar could have done better work. Only one song ' Dhak Dhak Duniya ' is appealing.
The second half of the film is also appealing but compared to the first half it falls a little short. The main point of the second half is a little stretched. A simple climax effectively closes the film on a Happy note. Production values are decent and more than required for a comedy film. The songs are well filmed but disrupt the narrative.
Positives:
Out and Out Comedy
Fresh Story
Fantastic dialogues
Fine performances from all actors
Negatives:
Slightly stretched point in 2nd half
Musically could have been better.
Verdict:
Samajavaragamana offers superb comedy entertainment, engaging scenes, and mainly fresh story after a long time in Telugu. It's Youthful and appeals to families as well. Go and watch this film on Big Screen with the entire family.
Release date: 29th June 2023
Director: Ram Abbaraju
Music director: Gopi Sundar
Cinematography: Raam Reddy
Language: Telugu
Producers: Rajesh Danda, Balaji Gutta, Anil Sunkara
Summary
Reviewer
Review Date
Reviewed Item
Author Rating