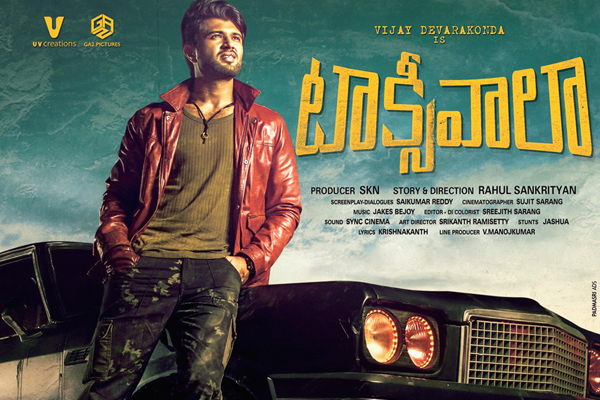 Taxiwala Review Rating Telugu
Telugu360 Rating : 2.75/5
After the sensational success of Geetha Govindham, Vijay Deverakonda bagged an embarrassing flop with political thriller NOTA. He is now coming up with a supernatural thriller titled as Taxiwala
After getting postponed several times due to piracy issues, Taxiwaala is releasing today all over. Can Vijay bounce back strongly? Let's find out.
Story:
Shiva (Vijay Deverakonda), a jobless graduate, settles as a cab driver after quitting the odd jobs he attempted. Shiva starts experiencing spooky things inside the vintage car he bought, most of them not harmful to him but scares others. Suspecting a ghost, Shiva and friends try to find the mystery throught the ex-owner. As the team enters the ex-owner's home, they come across a professor who knows about a pseudo scientific process called Astral Projection. Rest of the story reveals how the Astral Projection is related to the Ghost acts in the Car, who is the person (s) undergo the said process etc. There is also a parallel inter-related plot on Shiva's brother and sister-in-law.
Performances:
Rising star of Tollywood Vijay Deverakonda acts with ease as a cab driver Shiva. Vijay is able to deliver good performance even in this cowardice characterization which is contrary to his rowdy boy image. However, in second half his screen time is less. Debut heroine Priyanka Jawalkar looks fine; however, her character has limited scope in this film. Second heroine Malavika Nair role is much smaller but it is the crux of the core theme. Raviprakash, Ravi Varma, Shiju, Uttej and Yesteryear heroines Yamuna, Kalyani play other roles. The young guy who played a character named "Hollywood "is fun.
Analysis:
Taxiwala is yet another semi-horror genre film that has been a trend in last few years in Tollywood. Major advantages with this genre are limited budget, crisp runtimes. Thus, many producers are picking up this genre more than saturation. Taxiwala is of same league with a comedy touch and central point is based on a pseudo scientific theory 'Astral (spiritual) projection'.
Movie starts off in an entertaining manner, quickly moves to the main subject and continues to be decent enough till some time in second half. Once the Malavika Nair thread is opened the graph nose dives, super farcical pre-climax and climax are the let downs. Comedy one-liners by Vijay, his sidekick 'Hollywood 'comedy timing are the saving grace and Director Rahul S. succeeded in that aspect. Rahul S. must also be appreciated for not deviating from the core concept of the film. Vijay D. must be appreciated for accepting diverse characters rather than sticking to Arjun Reddy image. Hero heroine love or friendship thread is a half baked one – understandable for the genre. Except 'Maate Vinaduga' song there ain't any romantic moments between the lead pair.
Technical:
Jakes Bejoy music is adequate, 'Maate Vinadhuga Vinadhuga 'song stands out. Sujith's cinemtography is adequate. Crisp editing by sreejith Sarang makes this film fast paced. GA2 Banner production values are adequate for the genre, but given the hero is 'Vijay D 'they should have spent more on technical grandeur.
Positives:
Vijay Deverakonda adjusting himself to this role
A concept-based thriller film
Comedy is decent in parts AND 'Maate Vinadhuga 'song
Villain home robbery scene in second half is fun
Negatives:
Pre-climax and Climax
Lack of commercial elements to suit Vijay
Unconvincing , farcical core point behind the ghost
Verdict:
Taxiwala is a one-time watch for Vijay Deverakonda fans and/or semi-horror genre audience. It entertains adequately, engaging narration tilll mid second half. Made on shoe-string budget, this film may recover the moolah at Indian Box-office!
Telugu360 Rating : 2.75/5
Release Date : 17th Nov, 2018
Director : Rahul Sankrityan
Music Director : Jakes Bejoy
Choreography : Sujith Sarang
Production companies: Geetha Arts, UV Creations
Starring : Vijay Devarakonda, Priyanka Jawalkar