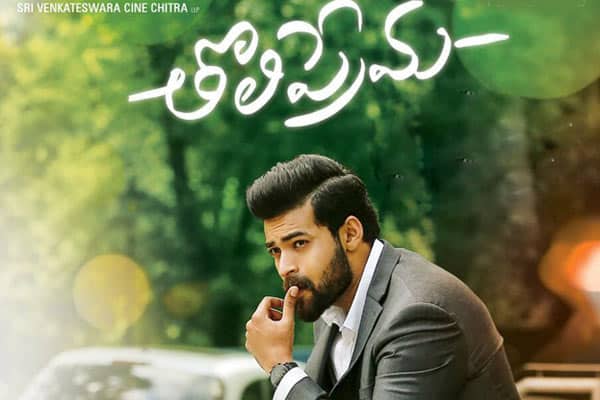 Tholi Prema Review
Varun Tej Tholi Prema Review
Telugu360 Rating : 3/5
Story:
Tholi prema is a cute little love story of an impulsive boy Aditya and a calculated girl Varsha. This Love, Break-up and Love themed story is a reflection of current generation youth. Adi falls in love with Varsha in a train journey, she too reciprocates. Later, in 2011, they both join in same college in Hyderabad to pursue engineering. After being super friendly, due to unintended and unanticipated incident they breakup.
Click here for TholiPrema Overseas report
Life goes on for six years, Adi – Varsha story comes full circle as they meet in London in workplace. The duo work for a construction company and rest of the story is about how the bitter memories in their life resurface, eventually overlapped with sweet ones. Story line has striking resemblance with a recent film "Malli Raava"
Performances:
Varun Tej as Aditya performed effortless and the attitude intended for ADI character elevates his heroism. In three songs, he tried some steps which are partially good. However, he needs to watch his weight seriously. Surprise package is Rashi Khanna as Varsha. Varsha's role is an author backed one and Rashi Khanna performed it very well. This film is undoubtedly her career best. Her expressions in the car romance scene will be loved by the young crowd.
PriyaDarsi as Ravi – best friend of Aditya- got lengthy role but he is not impressive this time. There is neither comedy nor performance in his character. Jabardhasth fame 'Hyper Aadi' played a role of "Bheemavaram Raju garu "who's habituated to bet on everything he comes across in his life. Though one or two punch dialogues worked out, overall his character falls short. Naresh and Suhasini are adequate.
Analysis:
Tholi Prema film takes off not so impressively. After 10 minutes into the movie, one gets a feeling that we're about to watch another routine film. But as lead pair Adi – Varsha start their friendship, the chemistry between them engages the audience. Varsha is a true replica of current generation girls, her characterization is adorable. Aditya, the high tempered young lad is very straight forward in his approach. After some routine college rag scenes, the best part of the film comes in. The Rakhee scene stands out, followed by romance in the car scene and two good songs interlaced. All in all first half scores good. With not so solid reasoning, the couple breaks up.
As second half starts, six years later in time, movie is set in London. Both settled in their professions, Adi – Varsha sees each other for first time in six years. Adi continues his hate on her, but she wants him even now as her life partner. The problem with second half of the film is, there are no high moments and the narrations is flat. However, intense dialogues are an asset for second half. There is no short of conversations in the film, in that process we can embrace some good dialogues about love life. The reasoning for change in Adi's view point on his breakup with Varsha is unconvincing. Finally, with an abrupt climax movie comes to an end.
Positives:
Varsha's characterization
Chemistry between the lead pair
Youth appealing direction
Nice dialogues
Three songs
Negatives:
Lack of Emotional connect in second half
Many of the heroine dialogues in first half are in English, which regular audience may find it difficult to follow
Not much comedy
Abrupt change in Adi's thought process
Verdict:
Tholi Prema is a new age love story with Good First Half and Flat second half. Overall, it is a decent watch for youth and families. At Box-office, this film may reach its target audience.
Telugu360 Rating : 3/5
Release Date : 09th Feb, 2018
Director : Venky Atluri
Music Director : S. Thaman
Choreography : George C. Williams
Producer: B. V. S. N. Prasad
Starring : Varun Tej, Raashi Khanna