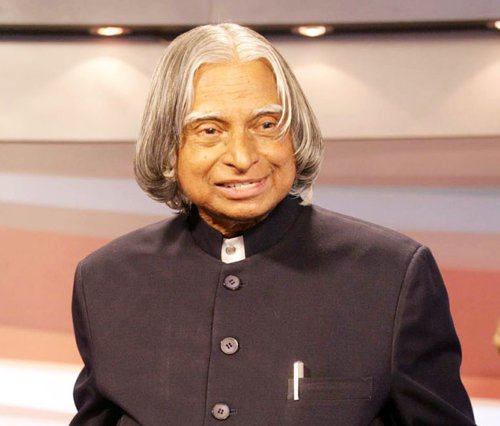 Mahesh Babu –– Saddened by the sudden death of Mr Abdul Kalam. A pioneer in scientific research . May his soul rest in peace ..
Pawan Kalyan — Dr.Abdul Kalamji. An Epitome of excellence and Integrity.You have shown what an Ignited mind can achieve. We Salute you Sir. Jai Hind !
Ram Charan — Know as The Missile man ,a poet ,the Bharat Ratna ,visionary and the man who truly loved his country. Will miss u sir.Rest in peace Dr.Abdul kalam
Prakash Raj — Take a bow chief for inspiring a generation .. Proud to have known you .met you. Thank u for a life well lived , RIP
Mohanbabu –Disheartening news to hear that one of the greatest Indian of this generation is no more. May his soul rest peace. We have lost a great man
Nani— The only time I could confidently answer the question- 'Who is the President of India', is when the answer was APJ Abdul Kalam.#MissileMan
NTR –The country looses one its greatest leader,scientist and citizen Dr.APJ Abdul Kalam.Lets continue to model ourselves after him.
Allu Arjun–Former President Abdul Kalam Ji is no more ! One of the greatest Icons of Our Nation ! RIP
Prabhas — Shocking news.. A Legend. A Visionary. A Leader. An Icon. Dr. APJ Abdul Kalam. Truly we lost the real Indian hero. You are always an inspiration forever. Rest in peace sir.
Akhil Akkineni— RIP APJ Abdul Kalam sir. One of the greatest Indians to have graced this world. Every school teaches all its kids about his greatness.
Allari Naresh— Nation loses a visionary,intelligent,inspiring Soul. Missile Man who inspired millions with his works,words,Dr.APJ Abdul Kalam sir!#Salute.
Nara Rohit — I am Ekalavya Sishya to APJ Abdul Kalam sir I have Learnt lot of things from we have Lost Great Leader.
Vennela Kishore — RIP Abdul Kalam sir. #SalaamAbdulKalaam #PrideOfIndia #respect
Kona Venkat — Don't declare holiday on my death, instead work an extra day if u love me – Dr APJ Abdul Kalam. What a great soul ..
Sudheer Babu –Rip Dr.Abdul kalam sir.There were times I use to repeatedly listen to his speeches to stay focused in life.
Rajamouli—Abdul kalam – an inspiration to an entire nation.. Sir, we are forever indebted to you.
Allu Sirish— A visionary who dedicated his life for our country – Abdul J Kalam passes away. Rest in peace, Sir. India will always be indebted to you.
Ram— Shocked n Deeply saddened by the loss… #RIPKalam.
Harish Shankar — RIP …… A great Human Being and a great President
Kalyan Koduri — India's greatest president shree abdul kalam is no more..such a sad news..rest in peace sir!!
Rakul Preet Singh— Such a huge loss to d nation.. Peoples president! RIP APJ Abdul Kalam sir… Unbelievable
Adah Sharma-– RIP #AbdulKalam … your very inspiring quotes will always live on.
Tapsee Pannu — We have truly lost a great human being n one of our best President ever! RIP Dr. Kalam.
Lavanya Tripathi — Rip APJ abdul kalam?? its just too difficult for me to digest this saddening news.. I admired him more than anyone..
Sneha Ullal — Abdul Kalam is in my thoughts..Live every moment.Be aware of right now.We are all fine.#PeoplesPresident
Priyamani — Sad news indeed!our dear former president #AbdulKalam is no more.
Lakshmi Manchu — #APJAbdulKalam what an icon.. What an inspiration. RIP sir. May you dazzle the other worlds too.