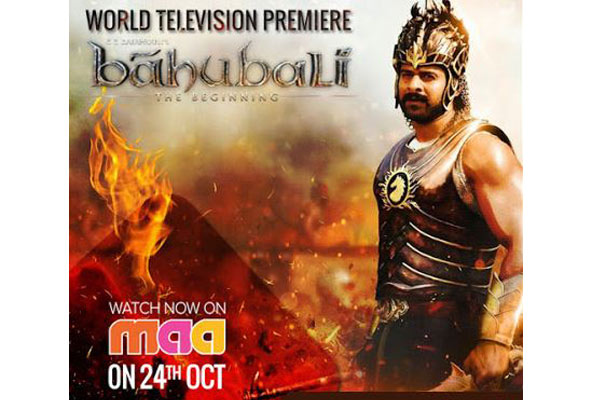 [intro]The epic movie of our times had just got a grand TRP. But are the TRPs getting bigger ? An insight[/intro]
The TAM rating TRP for Bahubali movie on MAA TV last week is finally released for the big bang week of Dussehra. Contrary to expectations, it registered a TRP of 21.7 according to the old system of TAM ratings which is now being phased out. The BARC rating is going to be released on November 5th. No prizes for guessing why Gemini TV raced to the second spot. It aired Pawan Kalyan's blockbuster "Gopala Gopala" in that week for the first time – which had entertainment as well as iconic scenes. However, on an stand-alone basis, "Gopala Gopala" fared poorer than an average rating for a blockbuster. It got a TRP of just 9 (compared to "Bahubali's 21.7). Any good film aired for the first time gets a typical TRP (TAM) of 11-12. While we have to await the final verdict on "Bahubali" once the BARC ratings are released next week, it is worthwhile to note that one of the highest ratings ever received for Telugu channels was 29.5 for "Nuvvostaanante Ne Voddanantaana" (starring Trisha and Siddharth) according to a Channel source. What may have led the ratings to fall from 29.5 to 21.7 in a decade is an interesting story by itself.
One, the number of channels which are showing films has increased. So the exclusivity is no longer the sole preserve.
Two, there are more options to download a film after a film's release with many local operators showing versions of the same film. "Bahubali" released on July 10th and the world premiere (Telugu) was aired on October 24th – a good 106 days since the release. Then, there are options to record the movie today which seriously undermines loyal viewership on a Saturday evening. With options from Hotstar to itunes etc., a blockbuster may not get the best of TRPs now as it used to ensure a decade earlier.
Three, the length of the film with absence of comedy and the tedium of the battle sequences may have created a fatigue amongst viewers. A blockbuster in theaters may not always translate into a blockbuster on TV. The family audiences who watch a film on TV have higher expectations of entertainment than watching a war sequence for thirty minutes.
Notwithstanding all this, note that MAA TV which bought the satellite rights of Bahubali -parts 1 and 2 for a total of Rs.29 crores will still make money on the film. On the day of the first screening itself, it may have roped in ad revenues of Rs.8-9 crores which means a recovery of a third of the consideration paid. Going forward, it may be foolhardy to expect a rating higher than 20 for a movie that fired the world the way "Bahubali" did because there are more channels and more ways of streaming movie content.