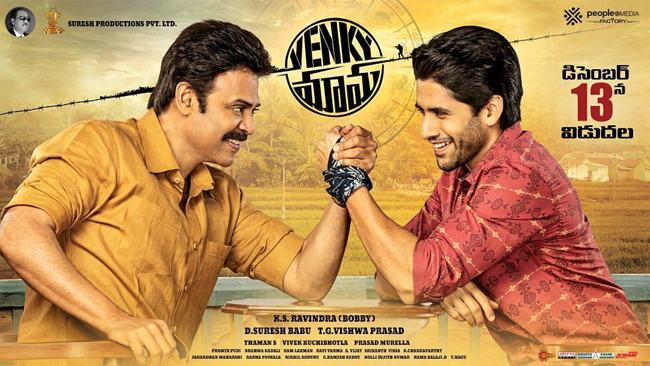 Venky Mama Review
Venky Mama Review
Telugu360 Rating 2.5/5
Story:
Venkataratnam Naidu (Venkatesh), a bigshot in his village raises his nephew Karthik (Naga Chaithanya) after an accident kills his sister and brother-in-law. Venky's father Ram Narayana (Nassar) is superstitious and does not like Karthik because of 'Sri Krishna Amsa' in Karthik's horoscope. This horoscope issue is a cause of constant conflict in Venky's house but always stands by his nephew. Karthik and Venky live jolly life until Karthik joins army without Venky's consent. Venky reaches Kashmir to find his whereabouts. Rest of the story reveals the reasons behind Karthik's decision to join the army along with parallel love tracks for both the protagonists with Vennela (Payal) and Harika (Rashi Kanna).
Analysis:
Venky Mama is a typical rural backdrop story topped with venky's unique mannerisms. First half has no high moments but offers adequate time pass with some humor here and there. Bonding scenes between Venky Mama and Karthik are good. The director banks heavily on Venkatesh's image with scenes included to suit him, but this hurts Naga Chaitanya's Karthik characterization.
Venky and Karthik support each other very well in life. Venky tries to find out Harika (Rashi Khanna) – Karthik(Chay) love story from past, Chay tries to find a suitable girl for his mama Venky. This particular thread gives some entertainment for the masses. While other songs are pretty average, two songs 'Yennallako…' , and 'Coca Cola Pepsi ..' are good on screen. Rao Ramesh 's villainy should have been more effective
In the second half, after the narration shifts from rural setup to army backdrop, things start to go haywire. The scenes showing the Indian army battle the neighboring country terrorist groups, Venky impersonating a dreaded terrorist leader etc.. are laughable. As good amount of budget was spent on these episodes, one would expect these scenes to be better scripted.
Performances:
Venkatesh carries this film on his shoulders as much as he could. The character suits his age, his vintage histrionics are put to good use. Naga Chaitanya has done decent work, but his character is not well contemplated in the script. Rashi Khanna as MLA's daughter has done required job with no complaints. She is looking good in this film. Payal Rajput, as school teacher Vennela, has got routine track for village films. Rao Ramesh, Prakash Raj and Nassar roles do not have not much scope to excel.
Positives:
Venky Mama character
Two mass songs
Adequate first half
Negatives:
Kashmir episodes
Old school sentiment theme
Poor script
Verdict :
Venky Mama's first half is watchable , second half goes haywire with over the top army episodes and old school sentiments. Venkatesh stands out with his performance in the first half, Naga Chaitanya's characterization doesn't give him much scope to perform.
Overall, Venky Mama aims at the rural audience and is a partial success at that.
Telugu360 Rating 2.5/5