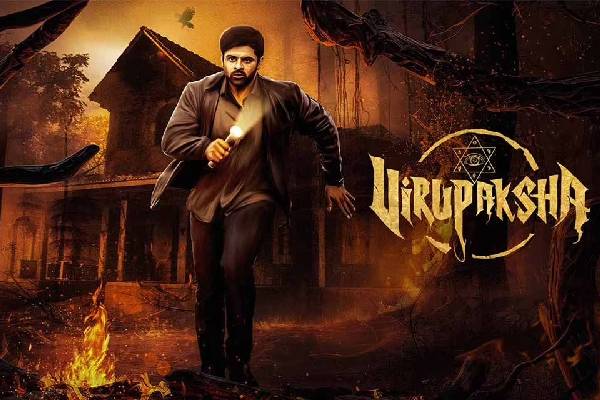 Virupaksha Movie Review
Virupaksha Movie Review
Telugu360 Rating 3/5
Story :
Virupaksha film story happens in the year 1979 and in 1991 at Rudravanam. In 1979 The villagers burn a couple alive suspecting they are practicing black magic. The dying couple put a curse that the entire village will die by the next pushkaram. Fast forward to 1991, to counter the series of deaths happening in the village, Ashta Digbhandhanam has been set up. Still, the mysterious deaths continue, and Surya ( Sai Dharam Tej) gets into action to find who is causing the deaths. The rest of the story is what he finds has been revealed in gripping twists
Analysis :
Typically horror genre films follow a template story with some fresh or repeated add-on elements to thrill the audience. In Virupaksha, you will see an afresh and a good amount of story. Though the backdrop is familiar, the story has depth, the script is tightly written and the sound design cinematography, etc. technical elements are good. The young director Karthik Varma Dandu comes up with an expansive story and he was well supported by the technical team. In the First half hero and heroine's introduction and their love track ( ?) are boring. The villager's series of deaths and apparent crying make it boring for half an hour so cumulatively. Once the crux elements of the story unfold in first half, around pre-interval, the film shifts to top gear. From then onwards, twists and thrills backed by visual effects will keep the audience engaging. The Tantrik part is gripping. Hero Surya's ( Sai Dharam Tej) role is passive in the first half and takes center stage only in the second. Sai is adequate in action episodes. Nandini's ( Samyuktha Menon ) characterization stands out. Samyukhta performed in Nandini's role very well. Sunil, Rajiv Kanakala, Brahmaji, and Saichand played important roles. Apparently, they are impressive. Suneel characterization is a half-baked one. His partial villainy has no purpose. Kamal Kamaraju plays the key character.
Shamdat Sainudeen's cinematography sets up the spooky village ambience very well. The lighting work in horror scenes is impressive. Ajaneesh Loknath's background score is good but the songs are not great. The best part of the technical team is Sound design. The entire team must be appreciated for their work. DTS Mixing by Raja Krishnan is top-class. There is some visual effects work in pre-climax and climax episodes which have been dealt well given the budget.
Positives :
Thrill elements work
Impressive script and Screenplay
Excellent Sound Design
Samyuktha Menon characterization
Sai Dharam Tej in second half
Negatives:
The brief love track in the first half
Lag at times in the first half
Not for Kids
Verdict: Virupaksha is an impressive spooky film worth watching on BIG SCREEN. This kind of originality in the story is not seen often in Telugu. The script and technical department's prowess make this film a success. Go and Watch it
Telugu360 Rating 3/5
Release date: 2023 April 21
Director: Karthik Verma Dandu
Music director: Ajanish Loknath
Cinematography: Sandat Sainuddin
Producers: BSN Prasad
Summary
Reviewer
Review Date
Reviewed Item
Author Rating