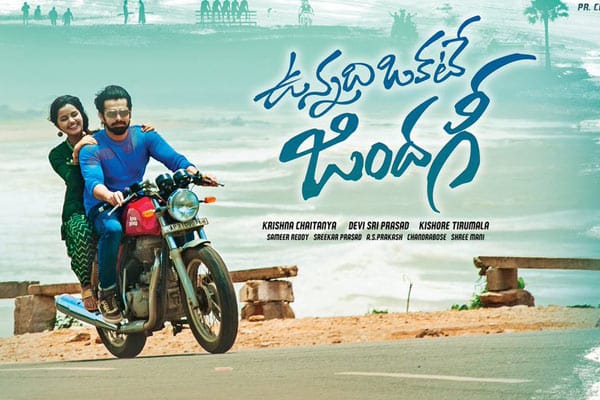 Vunnadhi Okate Zindagi Review, Vunnadi Okate Zindagi Movie Review
Telugu360 Rating : 3/5
Story (Spoiler Free):
'Vunnadhi Okate Zindagi' is a tale of two childhood best friends and one girl. Abhi (Ram Pothineni), Vasu (Sri Vishnu) are the two best buddies while Mahaa (Anupama Parameswaran) is the girl who unintentionally overshadows their friendship. It may sound like a triangular love story, but is far-flung from being termed one. That's where this honest story scores in terms of variety. Mahaa is the girl who enters into Abhi's life first followed by Vasu's. Rest of the story deals with how Abhi and Vasu resolve the issue surrounding the girl of common interest. Also, another lady Meghana (Lavanya Tripathi) enters into their lives in the later half. Watch this film on big screen to know how these four characters end up in lives
Analysis:
'Vunnadhi Okate Zindagi' (VOZ) is an emotional story narrated with honesty. Director Kishore Tirumala who scored a hit with his previous outing 'Nenu Sailaja', took up more complex script in the form of 'VOZ'. The first and foremost difficult task with VOZ script is the emotional depth it has to deal giving less scope to play it to the galleries i.e. to insert commercial elements. Secondly, the narration has to evoke emotion from the bromance between Abhi-Vasu while maintaining the right chemistry between Abhi-Mahaa and correct understanding between Mahaa -Vasu. Kishore not only succeeded in all aforesaid elements but also excelled the scenes with superb dialogues throughout. However, in this whole process, the pace of the film has been compromised and narration is slow at times.
Childhood bonding of protagonists Abhi-Vasu are over elucidated in first 30 minutes. The film is very slow, until the house surgeon Mahaa's character is introduced. Following the introduction, the movie is an engaging emotional ride and tribute to true friendship. Towards pre-climax the sacrifice scenes are redundant and monotonous. Climax is good and ends on a happy note.
Abhi, Vasu and Mahaa's relation is not truly a triangular love story. Each one of them acts in a very matured manner in given circumstances. Especially Abhi's role is an author backed one with unique characterization. The way both friends help Mahaa achieve her life ambition came out well. "Life is a rainbow" song is the best moment. Destiny turns down the trio with shocking events.
In second half Abhi returns to Ooty from Italy to attend a wedding for 10 days. Here scenes are designed to reunite Abhi, Vasu and their three other friends. Wedding planner Meghana (Lavanya Tripathi) enters the story and second time in their lives same girl impresses both Abhi, Vasu. Also, a fact about Mahaa is revealed.
A crispier and faster narration with a seasoning of comedy would have done wonders to this slow-paced film. "Life is a Rainbow" and "Rayyi Rayyi Mantoo" songs are the best ones on screen. Title track "Vunnadhi Okate Zindagi" is good too. Audio wise hit songs "Trendu Marina", "Whatamma what is this amma" songs lack strong context and falls short of expectations on-screen.
DOP Sameer Reddy captured beauty of Ooty and Vizag well and the cinematography is consistent in regular scenes as well. Rockstar Devi Sri Prasad has given good audio and decent background score. Editor Srikar Prasad has done good job, but editing could have been better in pre-climax especially with redundant scenes and sluggish 30 minutes at the start.
Performance:
Hero Ram is T fit for Abhi's role and he excelled at it. With no overplay in any scene, Ram has brought life to the character of Abhi. Sacrifice without being sentimental is USP of this script and Ram nailed it. Surprise package is Anupama Parameswaran as Mahaa. She looked cute and acted well. Upcoming Artist Sri Vishnu as Vasu also looked good and performance wise was impressive. Lavanya Tripathi as Meghana is appealing but the role is not as author backed as Mahaa's. Priyadarshi and two others who acted as friends are adequate.
Verdict:
Vunnadhi Okate Zindagi is an emotional story – that highlights true friendship, which has been left untouched in recent years. Dialogues about bromance and love are top notch and a major asset. Ram, Anupama and Sri Vishnu performed well. Songs are impressive. On flipside, slow narration may prove costly at box-office.
Overall, VOZ is a good film and an appreciable attempt that can be watched with family. However, commercial success depends on how youth connect to this slow paced one.
Telugu360 Rating : 3/5
Release Date : 26th Oct, 2017
Director : Kishore Tirumala
Music Director : Devi Sri Prasad
Cinematography : Sameer Reddy
Production Company: Sravanthi Cinematics
Starring : Ram Pothineni, Anupama Parameswaran, Lavanya Tripathi
Telugu360 is always open for the best and bright journalists. If you are interested in full-time or freelance, email us at
Krishna@telugu360.com