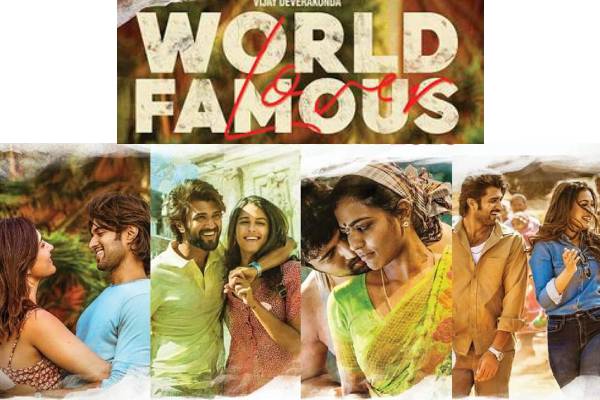 world famous lover review
Telugu360 Rating 2.5/5
Vijay Devarakonda's tryst with love stories continues as he is set to entertain audience with a similar genre in World Famous Lover which is releasing this Friday amid decent expectations. Directed by Kranthi Madhav of Malli Malli Idhi Rane Roju fame, it will see Vijay romancing four heroines.
The hard-hitting trailers and teasers have drawn comparisons with Arjun Reddy, but he has clarified that WFL is a different attempt that will woo all sections of audience.
Let's find out what Vijay Deverakonda has in store with this film
Story:
Disputes arise between a live-in relationship couple – Gautam ( Vijay Deverakonda) , Yamini ( Raashi Khanna).  Yamini supports her job-less partner Gautam to fulfill his dream of becoming a writer, but gets vexed after one and half year. As Yamini goes out of relation, Gautam starts writing a book named 'World Famous Lover'.  As he writes down three different love stories, the film showcases us those stories enacted. World Famous Lover is an interesting and different storyline
Analysis:
Director K. Kranthi Madhav who is known for making sensible films, this time shocks audience with his bold version of urbane couple in initial episodes. The liberal usage of F word by the heroine and hero doesn't appear out of the place. However, the love making depiction scenes, unnecessary usage of sentences "spreading the legs " , " I'm getting bloated with contraceptive pills " etc. might be hard for common audience to sail with.
After narrating Gautam – Yamini couple's story, the screenplay slips into best part of the film Seenayya – Suvarna couple story. Set in Yellandu coal mines of Telangana, this raw emotional thread is quite authentic and appealing. The innocent rural wife and husband relationship of Seenayya – Suvarna has been beautifully captured by Kranthi Madhav.  In second half until paris episodes movie is okay, but then starts the trouble with too much of sliced screenplay. General mass may find it difficult to stay glued to the proceedings with so many layers into it.
And another major drawback of the film is music.  This type of love stories need two blockbuster melodies to start with to make it to next level commercially. But ironically there are no haunting songs as it appear on screen.
To live up to the banner reputation, Creative commercials, has spent lavishly on this film. The visuals are rich, there seems no compromise in this film making.
' World Famous Lover ' is a complex story of a Story writer Gautam who struggles in his personal life. Seenayya – Suvarna story scores best out of the three threads , Paris Episodes show some swag and Main thread ( Gautam – Yamini ) could have been better.
Director K. Kranthi Madhav shows his strength in writing sensible first half, but loosens grip completely in second half. Climax is a typical cinematic one.
Performances:
Vijay Deverakonda has done three characters in this film. As a writer Gautam , Coal mine worker Seenayya  and as a Radio Jackie who works in Paris he has done pretty cool job. Aiswarya Rajesh who played suvarana is quite a revelation. Her Telangana accent dubbing artist is authentic. Raashi Khanna has acted well as a girl who wants to see change in her life partner.  Catherine Tresa played a small role as a HR  manager at Coal Mines.
Positives:
Vijay Deverakonda's superb performance in three different dimension characters
Suvarna – Seenayya couple characterization
A different story
Rich Production Values
Negatives:
Second half emotions could have been better
Songs are weak
No scope for entertainment for the film genre
Verdict:
World Famous Lover has a different story line, Good first half and notable performances. But the exhausted second half makes the audience bore. Vijay Deverakonda 's performance rescues this film to an extent, but same cannot be said about the film's commercial aspect. Overall , strictly for Vijay D fans.
Telugu360 Rating 2.5/5
Movie Name : World Famous Lover
Release date: 14 February 2020 (India)
Lead Actors : Vijay Deverakonda, Raashi Khanna, Aishwarya Rajesh, Catherine Tresa and Izabelle Leite
Director: Kranthi Madhav
Music director: Gopi Sundar
Language: Telugu
Producer: K. S. Rama Rao
Summary
Reviewer
Review Date
Reviewed Item
World Famous Lover Review
Author Rating