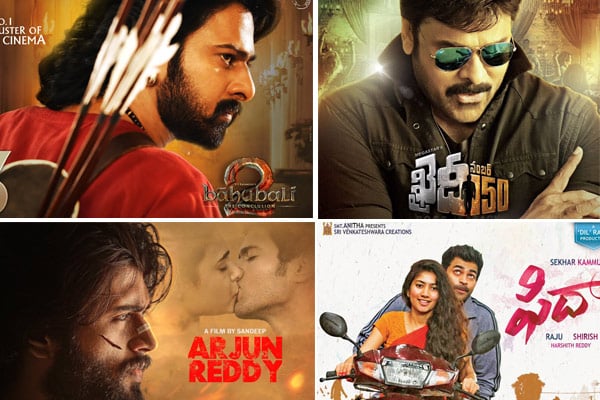 2017 USA Telugu Movies Box-office
North American Telugu films' Box-office set a new record with $38 Million theatrical revenue, making 2017 as highest gross earnings year in movie history. In 2016, the gross revenue was $22.5 Million. Though it appears market has been increased by 68%, if we pull out Baahubali-2 Telugu version's staggering $11.8M contribution then the % growth is not so significant.
Market Potential:
Going by no ifs and buts we have a 100 Crore revenue increase in 2017, now USA telugu movie potential has reached 250 Crores per annum. This 250 crore market cap underlines why producers, technicians and heroes need to be more USA market cautious while making their next. If we add non-usa countries' revenues, the total overseas market potential will be above 300 crores.
Trends of 2017:
Moviepass – Free movie a day subscription service and other Buy 1 Get 1 discount offers played a significant role this year in generating revenues for otherwise overpriced Telugu movies. This Moviepass and B1G1 deals have both positives, negatives which will be discussed seperately.
In Telugu States, total 169 straight films were released, but only 90 of them were released in USA market. The missed out small films wouldn't have made a difference to the topline though.
Top Five Grossers:
Baahubali-2 and Khaidi No 150 are the biggest money spinners of 2017 with $11.88M, $2.44M revenues . Once again content is king over the star power has been proved with Fidaa, Arjun Reddy and  GautamiPutra Satakarani. Their revenues are $2.07M, $1.77M, $1.66M respectively
Star of the year : Nani
With three big hits back to back, all scoring a million dollar and above, Nani is the star of the year 2017. His films this year are Ninnu Kori ($1.2M), Nenu Local ($1.07M) and MCA (more than a million is projected). However, his recent films appear to be used all lifelines to succeed.
The Loss makers club : Top Star Power could not rescue
Biggest disasters of the year 2016 were Maheshbabu's Brahmotsavam, closely followed by Pawan Kalyan's Sardaar Gabbar singh. Continuing the tradition, even in 2017, these two stars delivered biggest disasters even in 2017 with Spyder closely followed by Katama Rayudu.
Allu Arjun who made 40-50% loss with sarrainodu 2016, made another 3.5 crores' loss in 2017 with Duvvada Jagannadham
Though these stars are ending up loss makers in terms of ROI, their films' contribution is very significant for theatres to register footfalls. Problem in the system is the exorbitant price overseas distributors are paying to the producers
NTR who was the biggest money spinner of the year 2016 had only one film Jai Lava kusa in 2017 and it was breakeven for few exhibitors. Some third-party exhibitors lost around 10% to 20% on it, but the overseas distributor had a 5% negligible loss
Ram Charan do not have any releases in 2017
Remaining Stars:
Rana Daggubati with Ghaazi ($0.77M), Nene Raju Nene Mantri ($0.63M) and obviously Baahubali-2 is another Mr. dependable this year
Akhil Akkineni scored a good hit with "Hello" in USA, it is projected at $0.9M. Another Akkineni Scion Naga Chaitanya scored an average "Ra randoi …" ( $0.5M) , and a disaster "Yudham Sharanam"
Sharwanand with Shatamanam Bhavati, Mahanubhavudu (both $0.8M) had a good year, while his Radha disappointed
Dr. Rajasekhar made a solid comeback with PSV Garudavega which grossed more than half million. Raviteja scored a below average ( ROI) with Raja the Great ($0.38M). Other seniors Balakrishna, Nagarjuna and venkatesh could not make a solid impact this year with exception being NBK's 100th film Gautami Putra Shatakarni which stands at Top 5 in 2017
Promising Young Stars 2017:
Varun Tej with FIDAA and Sensational Vijay Devarakonda with Arjun Reddy made their foundation solid in USA.
Struggling Stars: Ram Potineni, Sundeep Kishan and Sai Dharam Tej
Ghajini Stars 2017: Nara Rohit, Manchu Brothers, Raj Tarun, Nithiin, Bellamkonda Srinivas, and Gopichand
Movies fared well in India, but did not do in same range in USA: Raja the Great, Ra Randoi Veduka Chuddham
Movies fared exceptionally well in USA, but did not do in same range in India: PSV Garuda Vega, Arjun Reddy, GautamiPutra SataKarni
Under performers of the year: Mental Madhilo, Ami Tumi (Titles may be the culprits)
Box-Office Categorization ( ROI Basis ) : 
Blockbusters : Baahubali-2, Khaidi No 150, FIDAA , Arjun Reddy, Gautami Putra SataKarni
Superhit : PSV-GarudaVega
Hit : Shatamanam Bhavati, Ninnu Kori, Nenu Local , AnandoBrahma, Nene Raju Nene Mantri, Ghazi , MCA , Hello
Above Average : Jai Lavakusa, Mahanubhavudu
Average : Ra Randoi Veduka Chuddham, Keshava
Analytical Highlights :
➢ 2 Million Club ( 3 ) BB2, KN150, FIDAA
➢ 1.5 Million Club ( 4 ) : Arjun Reddy, GautamiPutra SataKarni, SPYDER, JaiLavaKusa
➢ 1 Million Club ( 5 ) : Ninnu Kori, Nenu Local , MCA, KatamaRayudu , Duvvada Jagannadham
➢ Half Million Club ( 7): Hello, Mahanubhavudu, Shatamanam Bhavati, Nene Raju Nene Mantri, Ra Randoi Veduka Chuddham , PSV-GarudaVega and Ghaazi
➢ 1 Million premiere shows Club ( 3 ) : Baahubali-2 , Khaidi No 150 and Spyder
➢ Full run less than $50K club: 46 films out of 90 released films
➢ Full run Less than $1K club: 16 films